Movie News
Bill Murray as President Franklin D. Roosevelt in Hyde Park On Hudson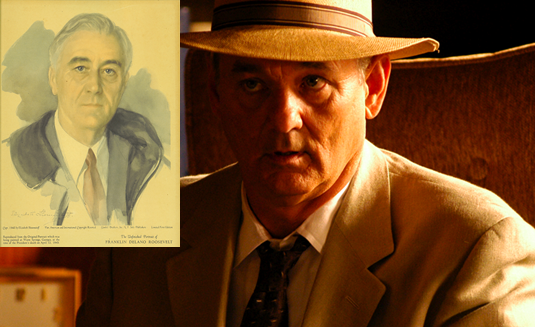 Bill Murray has signed on to lead Roger Michell's feature that shoots this July –incestuous historical drama Hyde Park on Hudson about a weekend in the life of President Franklin D. Roosevelt.
Brit director Roger Michell, the man in charge of Notting Hill, Enduring Love and Venus will next direct a definitely more dramatic fare and with a movie that will not affect his ability to gain familiarity with the various genres without fear of losing one's identity.
A historical drama from screenwriter Richard Nelson that's set over one weekend in 1939 when President Franklin D. Roosevelt shared an incestuous relationship with his cousin's cousin, Daisy at his New York home, Nelson firstly adapted as his own 2009 BBC radio play, which aired in the U.K. on the 70th anniversary of the royal's famous trip.
Roosevelt's invitation to the King George VI has great importance in the history of Anglo-American relations, not only because of their colonial past, but because it was a sign of a new era in American and British cooperation. With Europe on the brink of war, Roosevelt recognized the importance of fostering closer ties among the two democracies.
It is a quite interesting period in U.S. history to base a film on as well as an obvious advantage after The King's Speech success.
The film will be produced by In the Loop's Kevin Loader.
Hyde Park on Hudson's leading role will empower Murray because it's the kind of movie that usually has Oscar buzz floating around it. Murray has only been Oscar nominated in his career once for his outstanding turn in 2004′s Lost in Translation
It could certainly be a superb turn for Bill Murray, with no ghost chasing involved.