Movie News
Black, Cage and Carell to Star in the Kaufman's Frank or Francis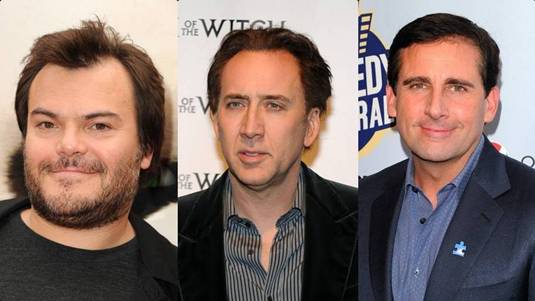 In late December 2010, some sources revealed that
Charlie Kaufman
would be re-teaming with long time collaborator
Spike Jonze
for a sophomore directorial effort. Well, that's just-announced there seems to be some movement on that front as well.
Joaquin Phoenix
is secured to star and Kaufman has attached both
Jack
Black
and
Nicolas Cage
and is also in talks with
Steve Carrell
to join
Frank or Francis
, the next project to be written and directed by Kaufman. We remember Oscar-winning screenwriter's directorial debut was awarded comedy/drama Synecdoche, New York, an ode to the creative process that virtually no one valued or recognized. The script of the new one is said to be a musical satire that revolves around a respected filmmaker named Frank and the deviant blogger named Francis who continually bashes his work with glee. The other plot details have been kept under the wraps and it's typical of any project Kaufman is involved in. Cage already worked in Kaufman's weird worlds thanks to Adaptation, in which he portrayed a gifted, but profoundly neurotic caricature of Kaufman himself. Carell looks like an obvious choice while Kaufman may very well be able to return Black to his earlier form. Kaufman briefly described the new movie at the Goteborg International Film Festival in Sweden earlier this year:
It is a musical. But it's not a conventional musical. But it does have a lot of singing in it. There are 50 songs in it.
This sounds a lot like the kind of projects we want to see – another Kaufman's mind-bender. Cage has a number films on his slate, including the thriller Trespass opposite Nicole Kidman, another thriller The Hungry Rabbits with January Jones, then action thriller Medallion with Malin Ackerman and a Ghost Rider 2. The former Office star Carell debuts in Crazy, Stupid, Love next weekend, and, after that, will be seen in post-apocalyptic comedy Seeking a Friend for the End of the World, with Keira Knightley. As for Black, he will soon star with Owen Wilson and Steve Martin in comedy The Big Year. Do you guys think Black will be playing the loathsome blogger? However, watch Kaufman's master class at GIFF 2011. [youtube]http://www.youtube.com/watch?v=xpjgjJqayxI[/youtube]
GIFF 2011: Charlie Kaufman Master Class