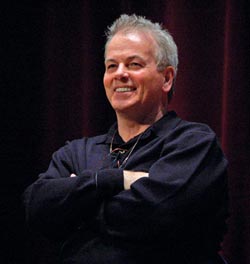 Academy Award-winning screenwriter
Bobby Moresco
("Crash") has been tapped to write a script about organized crime boss
Charlie "Lucky" Luciano
, according to Variety.
Joseph Isgro
("Hoffa"), a former independent record promoter who was once accused but cleared of ties to the Gambino clan, is producing the film. Isgro said his project benefits by having rights and input from a true "guy behind the guy" figure, a longtime Luciano confidante Isgro wouldn't name. A big part of the story is how the government put Luciano away on a 30-year stretch for pimping and pandering and then leveraged his cooperation in America's WWII efforts with the promise of a pardon. Moresco said that Luciano used his mob clout on the New York docks to root out spies whose reports of ship movement to Nazi U-boats led to the sinking of more than 250 ships. Luciano also arranged for safe passage when troops landed in Sicily.
Dan Michaels
will be executive producer, and hip-hop music producer Scott Storch will also be involved in a producing capacity, so reports the trade. No start date has been determined.