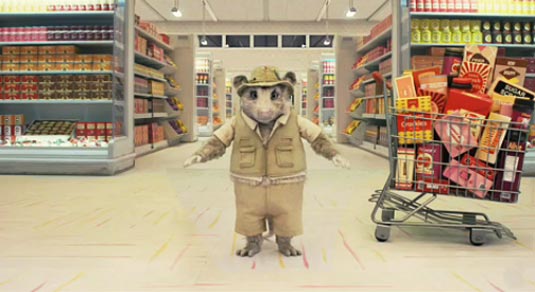 Fox Searchlight
just made a brand new featurette for
The Fantastic Mr. Fox
 available giving us some clues as to how director Wes Anderson and his crew used old-school stop-motion animation to bring the
Roald Dahl
classic to life.
Plot summary:
Mr and Mrs Fox (Clooney and Streep) live an idyllic home life with their son Ash (Schwartzman) and visiting young nephew Kristopherson (Eric Anderson). But after 12 years, the bucolic existence proves too much for Mr Fox's wild animal instincts. Soon he slips back into his old ways as a sneaky chicken thief and in doing so, endangers not only his beloved family, but the whole animal community. Trapped underground and with not enough food to go around, the animals band together to fight against the evil Farmers – Boggis, Bunce and Bean – who are determined to capture the audacious, fantastic Mr Fox at any cost. "Fantastic Mr. Fox" is both written and directed by the Oscar nominated filmmaker Wes Anderson (The Royal Tenenbaums, Rushmore, Bottle Rocket, The Life Aquatic with Steve Zissou, The Darjeeling Limited). The film features the voices of
George Clooney, Meryl Streep, Jason Schwartzman,
Bill Murray, Wally Wolodarsky, Eric Anderson
,
Michael Gambon, Willem Dafoe, Owen Wilson, Jarvis Cocker
and
Helen McCrory
. Scheduled to open the
53rd Times BFI London Film Festival
on October 14, "The Fantastic Mr. Fox" hits U.S. theaters on November 13, 2009.