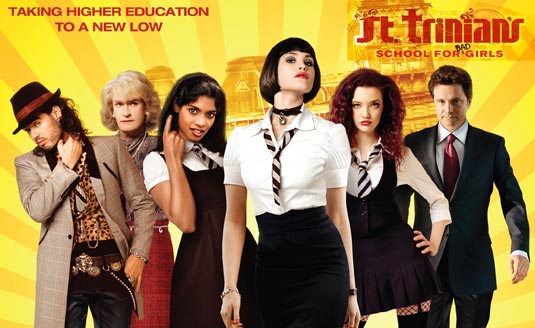 NeoClassics Films
has released the trailer for adventure/comedy  "
St. Trinian's
" St Trinian's, the infamous school for 'young ladies' is once again facing dire financial crisis! The bank are threatening headmistress Camilla Fritton with closure. Her unorthodox doctrine of free expression and self empowerment is also under threat from new Education Minister Geoffrey Thwaits, an old flame of Camilla's who is determined to bring discipline and order to the anarchic school. In true St Trinian style the girls are in a league of their own; smart, fearless and determined to defend the school they love to the end. They need to unite the warring girl gang cliques and come up with the cash fast to save the school. The film, directed by
Oliver Parker
(Dorian Gray, Othello)
and
Barnaby Thompson
, starring
Mischa Barton, Rupert Everett, Colin Firth, Lena Headey, Caterina Murino, Stephen Fry, Jodie Whittaker, Celia Imrie, Anna Chancellor, Gemma Arterton,
comedian
Russell Brand
and
Toby Jones
in the cast alongside model
Lily Cole
. U.K. pop act
Girls Aloud
also take a turn in the picture. "
St. Trinian's
" will be released in select theaters October 2nd, 2009.