Movie News
Brendan Fraser to Lead in New Comedy Whole Lotta Sole for Terry George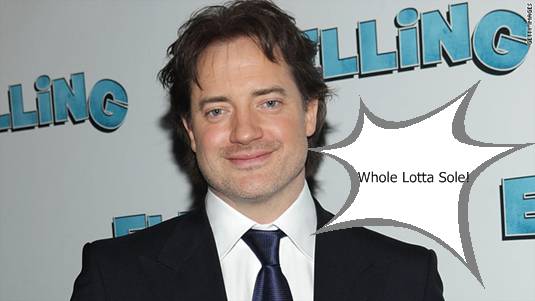 Brendan Fraser will star in comedic heist picture Whole Lotta Sole, for director Terry George and produced by Jay Russell.
Terry George also wrote the script with Thomas Gallagher, and the plot centers on a young man getting himself into hot water when he tries to rob a fish shop in order to pay off a gambling debt. The heist goes terribly and humorously — the shopkeeper (Fraser) has his own issues, since he's on the run from his gangster father-in-law. And when the situation quickly gets worse into a hostage situation, that's when the comedy cranks up. In any case, that's the plan.
Fraser had a rough 2010 with Extraordinary Measures and Furry Vengeance. Gods and Monsters (1998) proved he can act if he wants to, so maybe we'll get to see some of that talent again with this comedy. He will next be seen in the rom-com Crazy, Stupid, Love alongside Steve Carell, Ryan Gosling, Julianne Moore, and Marisa Tomei, scheduled for release on July 29th.
He's also attached to star in the Neil LaBute drama Seconds of Pleasure with Kristen Scott Thomas, which happens to shoot in the UK these days.
The writer/director behind the comedy, Terry George, brought the world Hotel Rwanda and Reservation Road. First one was nominated and won several awards in 2004–05; the second, starring Joaquin Phoenix and Mark Ruffalo, received generally mixed reviews from critics.
Producer's Jay Russell directing credits include My Dog Skip, Tuck Everlasting, Ladder 49 and The Water Horse. Besides Whole Lotta Sole he is currently working on film projects such as Duncan and Wake the Dead.
The low budget ($5.5 million) film will shoot in Northern Ireland, although it's not clear if that mean Fraser will be trying to pull the accent off to sound like a Dubliner.
Jonathan Rhys Meyers was previously attached to the movie, but it doesn't look like he's involved anymore.
Let's wait to see the rest of the cast.