Movie News
Broken Lizard Made Smart Choice Re-teaming with Olivia Munn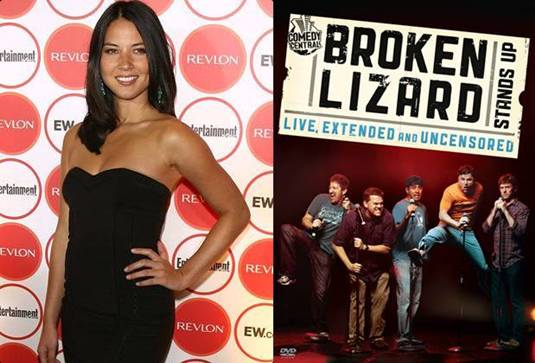 The world knows her as actress, model and TV personality. She began her career being credited as Lisa Munn. However, Munn has been one of the faces of the cable network G4, the most famous being Attack of the Show!, and since then she started using the name Olivia Munn professionally.
Wow! That beauty has landed the female lead in Broken Lizard's new indie comedy The Baby Makers.
As we told you before The Baby Makers will be directed by Broken Lizard founder Jay Chandrasekhar from a script by Ice Age: The Meltdown writers Peter Gaulke and Jerry Swallow.
And the comedy group has scooped up Paul Schneider (Lars and the Real Girl) for the starring role. Variety reportedly revealed that Munn will, for the first time, play the leading female role in the flick,  which is most probably Schnieder's wife.
The story follows a married couple who can't conceive a child,  prompting the husband (Schneider) to enlist his friends' help to rob a Pasadena sperm bank where he made a deposit as a young man.
Munn is familiar with the Broken Lizard troupe, having collaborated with them on 2009's rowdy comedy The Slammin' Salmon along Dan Rosen's upcoming comedy Freeloaders. Ex-correspondent actress recently cropped up for Iron Man 2 and Date Night. She will also soon be seen opposite Sarah Jessica Parker in Doug McGrath's comedy I Don't Know How She Does It, which will hit theaters on Sept. 16. Most recently, the busy stunning brunette landed a supporting role in Aaron Sorkin's new HBO series titled More as This Story Develops.
Check out Munn on G4TV. We have obtained Olivia's Bond girl audition tape for Quantum of Solace. Lol!
[youtube]http://www.youtube.com/watch?v=8hfHstR_Spo[/youtube]
Olivia Munn: Bond Girl – G4tv.com
Source: Variety