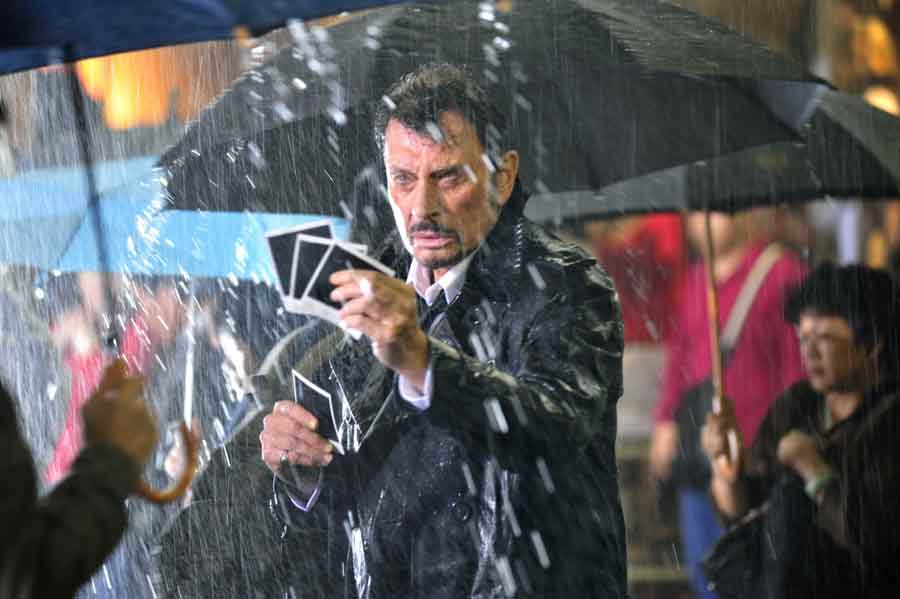 Hong Kong-director Johnnie To's revenge drama "Vengeance" has been shown in the main competition at the Cannes Film Festival today.
enlarge the photos below
A father comes to Hong Kong to avenge his daughter, whose family was murdered. Officially, he's a French chef. Twenty years ago, he was a killer…
Veteran French rocker Johnny Hallyday, who began his career in the 1960s, stars as a father out for blood in "Vengeance," a stylish thriller from Hong Kong director. The movie made from script by Ka-Fai Wai also stars James Chalke, Anthony Wong and Simon Yam.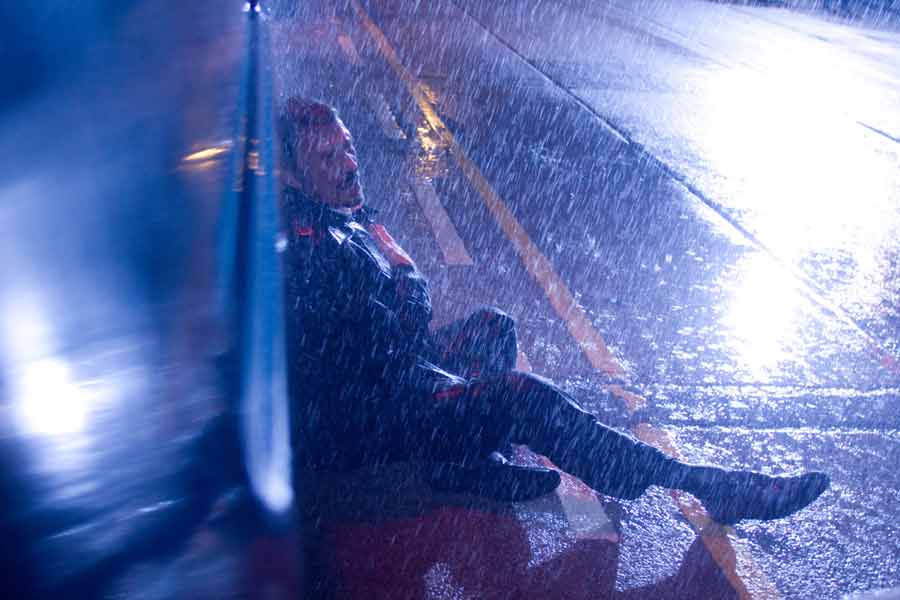 In To's film Hallyday plays a French chef with a mysterious past who goes to Macau after his daughter and her family are gunned down there. Swearing revenge, he joins forces with a band of local gunmen to hunt down her attackers.
"The characters in the movies don't have much dialogue and they are really cool, romantic action heroes and of course we have a French actor in the lead," To told a press conference after the film's screening at Cannes. "For me as a Hong Kong film director, I always hope I can find new ideas and new ways to bring films to the audience."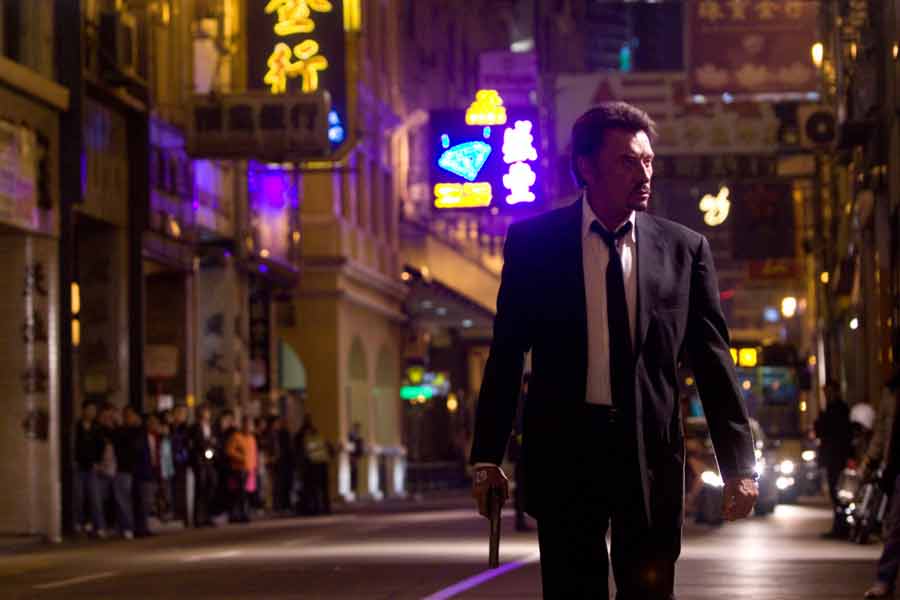 There were no problems of working together on the film despite To's relative lack of English and Hallyday's complete unfamiliarity with China. The style of the movie meant that dialogue and characterization were kept to a minimum.
"I'm a believer in pure cinema," To said. "I believe an image can tell a whole story."
"…With atmospheric locations in Hong Kong and Macau and To's signature set pieces of choreographed gunplay all accomplished with a bemused wink to his audience, "Vengeance" can penetrate just about any market in the world. Popcorn and art certainly can co-exist as this movie amply demonstrates…
A kicker here — which To and writer Wai Ka Fai make clear much too late in the story, to be honest — is that an old bullet lodged near the Frenchman's brain is causing rapid memory loss. So rapidly, again illogically, that his sense of purpose when he sets foot in Macau and later Hong Kong abruptly vanishes at the mid-point. He must, as did the hero of "Memento," take photos of people and label them so he knows friends from enemies and can recall his daughter's tragedy.
So the philosophical question the film raises is what does vengeance really mean when you've lost all memory? Whatever the answer to that, everyone is programmed to continue. Which means that even the white man's hired Triad assassins are willing to go up against their own boss and fellow assassins for the sake of this foreigner…" HollywoodReporter
"…Wai Ka-fai's script gets down to its bloody business in the opening minutes, as a Chinese man and his French wife (Sylvie Testud) are gunned down in their Macau home. The violence — accompanied by the smoky, stylized bloodspray that's become a To trademark — dispels the mood of domestic bliss with shocking suddenness. From there, "Vengeance" descends into a darkly beautiful Triad gang underworld, where every confrontation must be preceded by much slo-mo brooding and sizing up of one's competition, often through sunglasses…
"Vengeance" isn't exactly subversive, and it more than keeps the promise bluntly extended by its title. But it would be a mistake to overlook the ideas that occasionally penetrate its sleek surface. To acknowledges that the seven professional murderers onscreen (four good, three bad, for those who care to delineate) are in many ways interchangeable. He also foregrounds the desire to protect one's children as the overriding motivation that governs the film's universe, not only setting the plot in motion but unexpectedly complicating it along the way…" Variety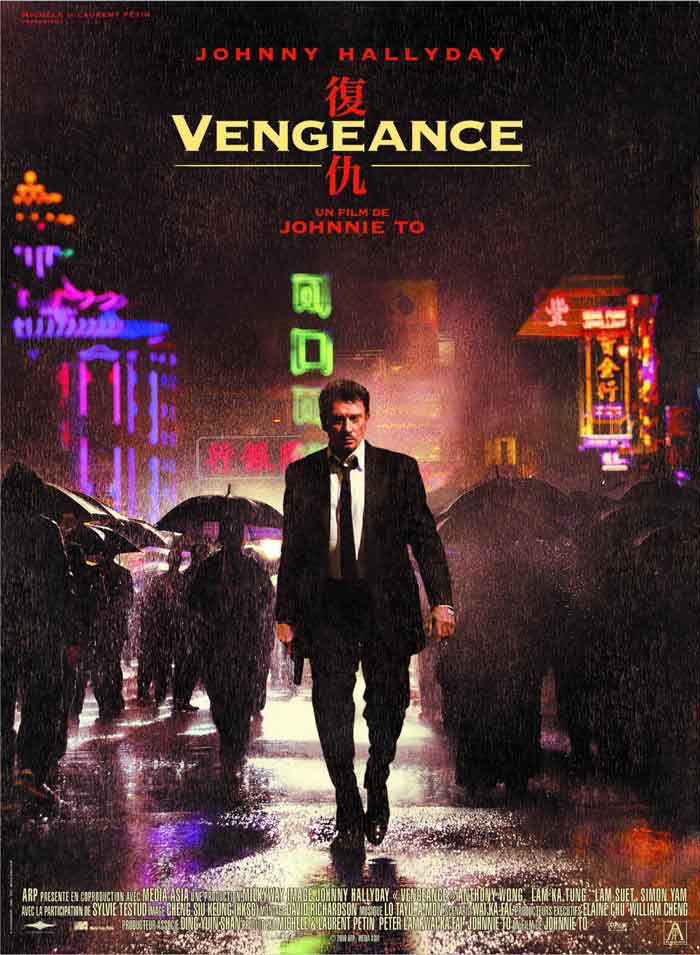 International Teaser Trailer

International Trailer