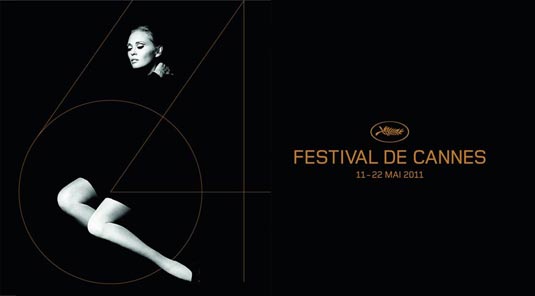 Festival president Gilles Jacob and Thierry Fremaux, festival chief announced the line-up for the 64th Cannes Film Festival which will run from May 11-22.
As expected Terrence Malick's The Tree of Life, Pedro Almodovar's The Skin that I Live In (La Piel Que Habito), Nicolas Winding Refn's Drive, Lars Von Trier's Melancholia and Lynne Ramsay's We Need To Talk About Kevin will be shown at Cannes 2011 In Competition Category.
In the same category will be also presented This Must Be The Place directed by Paolo Sorrentino, Ichimei (Hara-Kiri: Death of a Samurai) by Takashi Miike, The Kid With The Bike by Dardenne Brothers, Sleeping Beauty directed by Julia Leigh, We Have a Pope by Nanni Moretti but you can see the full list below.
When it comes to the Out of Competition selections Pirates of the Caribbean: On Stranger Tides will have that honor to be presented, as well as Jodie Foster's The Beaver, already premiered at SXSW Festival.
Sundance hit Martha Marcy May Marlene directed by Sean Durkin will be shown at the Un Certain Regard selection.
The list offers many surprises, but as expected films from Brillante Mendoza, Yorgos Lanthimos, Carlos Reygadas, Hirokazu Kore-eda were among the major omissions in the 19-film wide competition slate.
Midnight in Paris, the new film by Woody Allen will open the Festival de Cannes on May 11th. The romcom, which was shot last year in the French capital, brings together a broad international cast, including Owen Wilson, Rachel McAdams, Marion Cotillard, Kathy Bates, Adrien Brody and Carla Bruni-Sarkozy.
Speaking of Carla Bruni-Sarkozy, French president Nicolas Sarkozy will also premiere in Cannes, or rather his biopic The Conquest (La Conquête) on May 18. While many question the choice of Cannes to debut Xavier Durringer's movie, which will hit French theaters on the same day, Thierry Fremaux told reporters at the press conference this morning that fest organizers had "not had any sort of pressure to accept it, or to not accept it."
Restless by Gus Van Sant will open Un Certain Regard, on the evening of Thursday, May 12.
The French actress, Melanie Laurent (Inglourious Basterds) will welcome the Festival Jury headed by Robert de Niro during the opening ceremony on 11 May and on 22 May she will host the closing ceremony during which the prizes and the Palme D'Or are awarded.
Serbian film-maker Emir Kusturica will be president of the Un Certain Regard jury at the 64th Festival de Cannes. Director and scriptwriter Bong Joon-ho, as President for the Camera D'Or Jury, follows in the footsteps of Bruno Dumont, Abbas Kiarostami, Pavel Lounguine, Roschdy Zem and Gael García Bernal. Director Michel Gondry will be president of the Short Film and Cinefondation Jury.
This year's Cannes Film Festival will welcome Jean-Paul Belmondo on Tuesday 17 May with a special evening held in his honour.
Italian director Bernardo Bertolucci will receive an annual Honorary Palme d'Or, which will be presented during the Opening Ceremony. This recognition is attributed to an important filmmaker, whose work is authoritative but never got a Palme d'Or.
There could be more selections announced in the coming weeks – three competition slots are still open.
Now, you can check out the list:
IN COMPETITION:
La Piel Que Habito/The Skin I Live In, directed by Pedro Almodovar
L'Apollonide, directed by Bertrand Bonello
Drive, directed by Nicolas Winding Refn
Footnote, directed by Joseph Cedar
Ichimei/Hara-Kiri: Death of a Samurai, directed by Takashi Miike (Japan)
Le Havre, directed by Aki Kaurismaki
Hanezu No Tsuki, directed by Naomi Kawase
The Kid With The Bike, directed by Dardenne Brothers
Melancholia, directed by Lars Von Trier
Michael, directed by Markus Schleinzer
Once Upon A Time in Anatolia, directed by Nuri Bilge Ceylan
Pater, directed by Alain Cavalier
Polisse, directed by Maiwenn
Sleeping Beauty, directed by Julia Leigh
La source des femmes (The Source), directed by Radu Mihaileanu
This Must Be The Place, directed by Paolo Sorrentino
The Tree of Life, directed by Terrence Malick
We Have a Pope/Habemus Papam directed by Nanni Moretti
We Need To Talk About Kevin, directed by Lynne Ramsay
The Artist, directed by Michel Hazanavicius
OUT OF COMPETITION:
The Beaver, directed by Jodie Foster
The Conquest/La conquête, directed by Xavier Durringer
Pirates of the Caribbean: On Stranger Tides, directed by Rob Marshall
Bollywood, The Greatest Love Story Ever Told by Shekhar Kapoor
Wu Xia (Dragon), directed by Chan Peter Ho-Sun
Dias de Gracia, directed by Everado Gout
Midnight in Paris directed by Woody Allen
Les Bien-aimés/The Beloved by Christophe Honoré (closing movie)
Special Screenings:
Labrador (Out Of Bounds), directed by Frederikke Aspöck
Duch, Le maître des forges de l'enfer, directed by Rithy Panh
Michel Petrucciani, directed by Michael Radford
Tous au Larzac, directed by Christian Rouaud
La Khaoufa Baada Al'Yaoum (No More Fear) directed by Mourad Ben Cheikh
The Big Fix directed by Josh Tickell
UN CERTAIN REGARD:
Bonsaï, directed by Christian Jimenez
The Day He Arrives, directed by Hong Sang-Soo
Et maintenant, on va où?, directed by Nadine Labaki
Stopped On Track (Halt auf freier Strecke) directed Andreas Dresen (Germany)
Hors Satan, directed by Bruno Dumont
The Hunter, directed by Bakur Bakuradze
Martha Marcy May Marlene, directed by Sean Durkin
Les neiges du Kilimandjaro, directed by Robert Guédiguian
Restless, directed by Gus Van Sant
Skoonheid, directed by Oliver Hermanus
Tatsumi, directed by Eric Khoo
Arirang, directed by Kim Ki-Duk
Toomelah, directed by Ivan Sen
Oslo, August 31st, directed by Joachim Trier (Norway)
L'Exercice de L'Etat, directed by Pierre Schoeller
Trabalhar Cansa, directed by Juliana Rojas and Marco Dutra (first film)
Miss Bala, directed by Gerardo Naranjo
Loverboy, directed by Catalin Mitulescu
Yellow Sea, directed by Na Hong-jin
Elena directed by Andrey Zvyadintsev