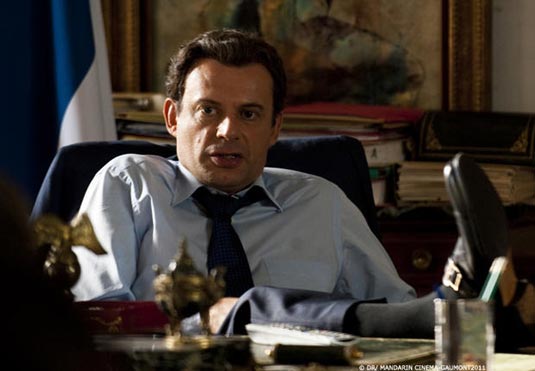 I can not believe that I actually have to write about Nicolas Sarkozy, but, as you see, everything is possible nowadays. That's why it's no surprise that even French President Sarkozy has been submitted for consideration for the Cannes Film Festival. Or, should I say – a biopic about him? Whatever… I mean, don't get me wrong, but I'm already bored… If you're not – check the rest of this report for more details about the whole thing and for the trailer as well.
The Conquest (that's the title, by the way) is directed by Xavier Durringer and written by Patrick Rotman (man best known as a director of documentaries on Francois Mitterand and Jacques Chirac, which actually means he's quite familiar with all that political garbage).
It focuses on French President Nicolas Sarkozy's rise to power, telling in flashback, the story of his rise to power, kicking off in 2002 when Jacques Chirac wouldn't appoint him as prime minister. Delving into both his personal and political life, the film has drawn comparisons to The Queen and The West Wing and should be a juicy bit of drama (at least, that's what they say all over the internet).
Denis Podalydès stars as Mr. Sarkozy, and his explanation about this project is probably the only reason for me to even write about this biopic. Here's what he had to say:
"The goal was never to make fun of the president, but to explain with the most accuracy what is politic in France today, the political world, its submission to the media world, his efforts to both differ from the past and stick to a heritage.
From this point of view, there is necessarily some sort of comedy. The political world is a tragically funny world, any politician will agree. What might seem harsh, cruel, if you want, is the comparison between what is said in this campaign of 2007, what Sarkozy announced as a candidate, and what we can see today."
The Conquest will hit theaters in France in May, but no U.S. distributor or release dates at this moment. Check out the trailer, and stay tuned!
[dailymotion]http://www.dailymotion.com/video/xhx7r0_the-conquest-trailer-with-english-subtitles_shortfilms#from=embed&start=93[/dailymotion]
The Conquest Trailer
[youtube]http://www.youtube.com/watch?v=Ye64YTuhAEM[/youtube]
The Conquest Teaser