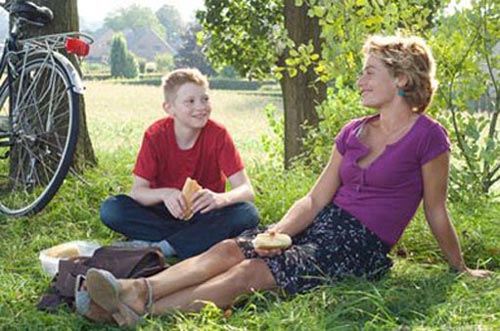 Abandoned by his father, a young boy is left in the hands of an unqualified childcare provider.
That's exactly a short description of the movie titled The Kid With The Bike (Le gamin au velo) that is written and directed by Jean-Pierre and Luc Dardenne, and that will compete at this year Cannes Film Festival, In Competition, so let's begin.
While you're enjoying poster and picture from the movie and trailer as well, we're here to say that it stars Cécile de France, Thomas Doret, Jérémie Renier and Fabrizio Rongione.
As we said, The Kid With The Bike centers on a young boy battling his own rage after his father abandons him in a children's home. Or, if you prefer a detailed description of the movie:
"Cyril, almost 12, has only one plan: to find the father who left him temporarily in a children's home. By chance he meets Samantha, who runs a hairdressing salon and agrees to let him stay with her at weekends. Cyril doesn't recognize the love Samantha feels for him, a love he desperately needs to calm his rage…"
The film was a co-production of the directors' Belgian company Les Films du Fleuve, French Archipel and Italy's Lucky Red. It received further funding from the CNC, Eurimages, Wallimage, Radio Télévision Belge de la Communauté Française and the Belgian French Community.
Filming on The Kid With The Bike commenced in August and ended 15 October 2010. We wish them good luck at Cannes!
The Kid With The Bike Trailer