Much anticipated and long-awaited fourth installment of
George Lucas
and
Steven Spielberg
's '
Indiana Jones and the Kingdom of the Crystal Skull
', will debut at the
Cannes Film Festival
then open in theatres world-wide a few days later.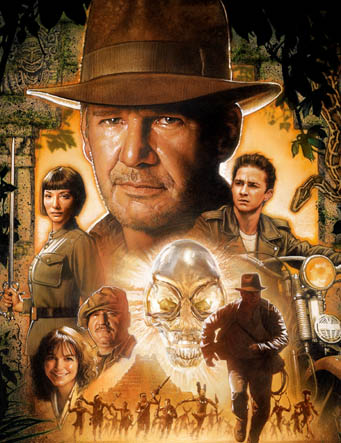 '
The Da Vinci Code
' used the same tactic, avoiding Internet spoilers and lots of scolding critics. The Cannes splash on May 18 will be followed by a massive press conference with
Steven Spielberg, George Lucas, Harrison Ford
and new co-stars
Shia LaBeouf and Cate Blanchett
. That will be followed by the opening, May 22, which will likely be followed by some sort of box office records. 'Da Vinci Code' scooped up $758-million globally even as critics slammed the allegedly lifeless version of the best selling book. Last year's '
Pirates of the Caribbean: At World's End
' reached $153-million. Can 'Indiana Jones 4' do either of the 'Da Vinci Code' or 'Pirates' numbers? We'll see.
UPDATE 05/18/2008
'Indiana Jones And The Kingdom Of The Crystal Skul' First Reviews!