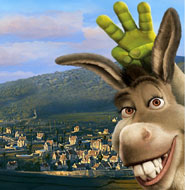 Cannes Film Festival officials on Wednesday revealed the lineup for the 61st festival in France.
Israeli filmmaker Ari Folman's 'Waltz With Bashir', an animated feature about Israel's 1982 invasion of Lebanon is entered in the competition, and is garnering some buzz.
'My Rabbit Hoppy' from Anthony Lucas (Australia) is one of nine films in the shorts competition. He was nominated for an Oscar for his 2005 short 'The Mysterious Geographic Explorations of Jasper Morello'.
DreamWorks Animation's 'Kung Fu Panda' will premiere at the Cannes Film Festival on Thursday May 15. The film will be released on June 6 in the U.S. and most major world markets by the end of July.
DreamWorks has previously shown clips or screenings of films at Cannes, including clips of 'Bee Movie, a screening of 'Over the Hedge', clips of 'Shark Tale' and a screening of 'Shrek'.