Movie Photos
Captain America: The First Avenger Featurette and New Image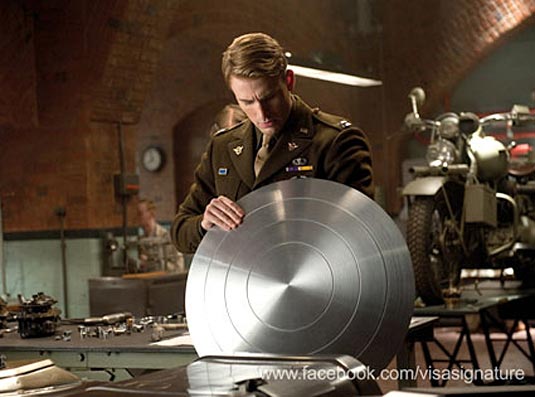 Marvel Studios and Paramount Pictures have released a new "Behind the Shield" featurette and a image from  Captain America: The First Avenger, which features Chris Evans as Steve Rogers, examining an early version of his iconic shield.
The year is 1942, and Steve Rogers is a scrawny lad who's been deemed physically unfit to fight for his country.
His fate is radically transformed when he signs up for Project: Rebirth, a secret military operation that turns him into the supersoldier known as Captain America.
Rogers joins forces with Major Peggy Carter (Hayley Atwell) and Bucky Barnes (Sebastian Stan) to wage war on the evil HYDRA organisation, led by the Red Skull (Hugo Weaving), Hitler's treacherous head of advanced weaponry.
Captain America: The First Avenger, directed by Joe Johnston (The Rocketeer), is slated to release on July 22nd, 2011.
Are you looking forward to seeing Captain America movie?
[Image source: E!Online]
For more on Captain America: The First Avenger, be sure to check out the following:
Captain America: The First Avenger Trailer
Captain America: The First Avenger Retro Poster
Captain America: The First Avenger Character Posters, TV Spots