Movie Posters
CAPTAIN AMERICA: THE WINTER SOLDIER Poster
Marvel has launched the official poster for their upcoming sequel Captain America: The Winter Soldier that features star Chris Evans as patriotic superhero
UPDATE: Below you will find two fairly low-res new photos from the film ahead of its  first trailer online at iTunes Thursday at noon ET/9 a.m. PT. Marvel has just launched the first official poster for their upcoming sequel
Captain America: The Winter Soldier
and it features star
Chris Evans
as patriotic superhero with iconic shield on his back. With Marvel's
Thor: The Dark World
  heading into theaters in the coming weeks, it's time to start the hype for the next Phase Two film. The first ever preview clip for Cap's new adventure will be online this Thursday on Apple and you'll likely see it play before Thor, too, and is to expect a very different sort of movie than we had before. Directed by
Anthony
and
Joe Russo
with a script from
Christopher Markus
and
Stephen McFeely
, the new film follows the continuing adventures of Steve Rogers (Evans) still struggling to adjust to present day life, when a powerful new enemy emerges.
Scarlett Johansson
also returns in the film as S.H.I.E.L.D. agent Natasha Romanoff a.k.a. Black Widow along with
Anthony Mackie, Frank Grillo, Samuel L. Jackson, Cobie Smulders, Toby Jones, Emily VanCamp, Hayley Atwell, Maximiliano Hernández, Robert Redford, Georges St-Pierre
and
Sebastian Stan
in the role of Bucky Barnes who will be resurrected as the titular Winter Soldier. Disney releases
Captain America: The Winter Soldier
next spring on April 4th, 2014. Check out the first official one-sheet and notice the agency's logo under Evans' feet.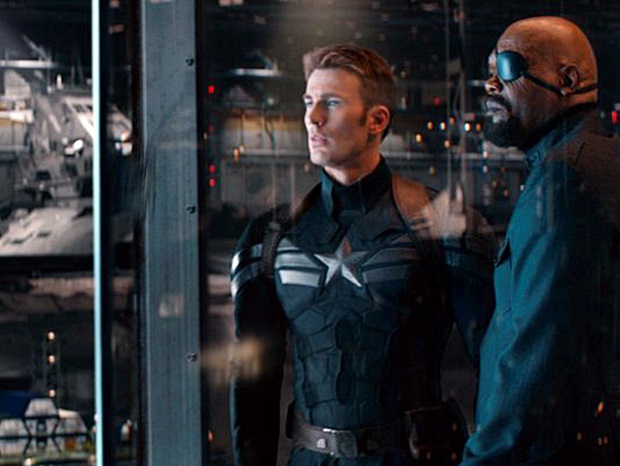 Steve Rogers (Evans) gets used to the modern world with the help of Nick Furry (Jackson).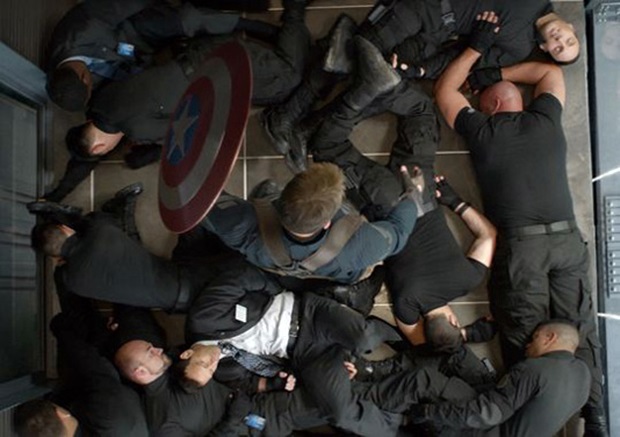 Rogers (Evans) takes out an elevator full of bad guys in this action scene.