Movie Photos
New CAPTAIN AMERICA: THE WINTER SOLDIER Set Photo of Sebastian Stan
After a slew of new photos from the Cleveland set of Captain America: The Winter Soldier, our best look yet at the Winter Soldier character (Sebastian Stan) has made its way online.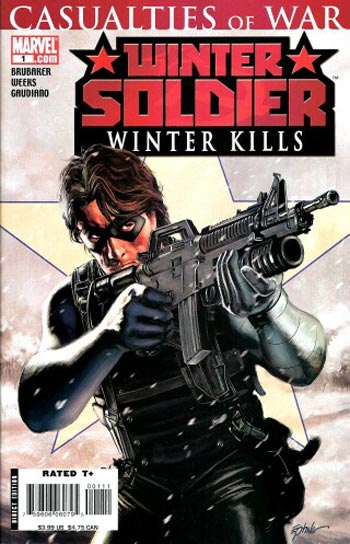 Marvel decided to make the villainous Winter Soldier aka James 'Bucky' Barnes the focal point of the upcoming Captain America sequel. In the comics, as you may remember, the Russians found Captain America's long-dead sidekick in 2011s Captain America: The First Avenger, brainwashed him and gave Bucky a bionic arm to be a badass assassin. Directed by Joe and Anthony Russo, the upcoming sequel picks up where 2012s The Avengers left off, as Steve Rogers/Captain America (Chris Evans) struggles to embrace his role in the modern world and teams up with Natasha Romanoff/Black Widow (Scarlett Johansson) to battle a powerful yet shadowy enemy in present-day Washington, D.C.
The film also stars Anthony Mackie, Cobie Smulders, Georges St-Pierre, Frank Grillo, Hayley Atwell, Toby Jones, Emily VanCamp, Maximiliano Hernández, Robert Redford, and Samuel L. Jackson. Captain America: The Winter Soldier, the latest Marvel superhero movie is slated to hit theaters on April 4th, 2014.