Movie News
Carey Mulligan Is The Girl with the Dragon Tattoo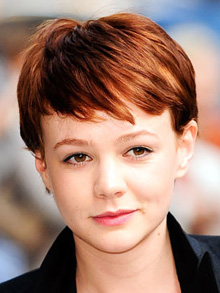 Yes, we already wrote about this possibility, and yes, we were wondering if this is actually going to happen, and yes, Carey Mulligan is going to be Lisbeth Salander, one of the hottest Hollywood roles, the punk heroine in The Girl with the Dragon Tattoo. On the other hand, we have no idea how Oscar-nominated star of An Education will handle the part, which will require a lot of black leather, a tattoo and maybe a visible piercing or two. Do you? So, the rumor goes like this. Apparently Mulligan won out in casting against 5,000 candidates to land the role. This report is given credence by the fact that Mulligan is an avid fan of the series and said last month:
"I am obsessed with those books, I would love to do them. I am not going to lie about that. I would love to play Lisbeth Salander."
So, there you go Mulligan, enjoy it! And she will definitely enjoy since Hollywood insiders say Mulligan can expect to be paid up to £10m for the three films covering Larsson's Millennium trilogy, which has sold 1m copies in Britain and 25m worldwide. This will make her one of Britain's best-paid actresses. How about that, guys? We should just remind you of some basic details about the whole thing. Latest adaptation of Stieg Larsson's Millennium Trilogy of internationally best-selling novels is being directed by David Fincher. Filming is most probably going to happen in Canada later this year. In the Swedish adaptation of the novel, Lisbeth was portrayed by Noomi Rapace, and the movie was really succesful, it grossed over $88 milion worldwide earlier this year. That film's two Swedish language sequels, The Girl Who Played with Fire and The Girl Who Kicked the Hornets' Nest, came out late last year in Scandinavia and will be released in the UK this August and November respectively. If you are fan of Mulligan, let's remind you she will next be seen in Oliver Stone's Wall Street: Money Never Sleeps this September, while Fincher's next project is The Social Network which is due out in October. In the mean time, stay tuned, and get ready for Carey as The Girl with the Dragon Tattoo.