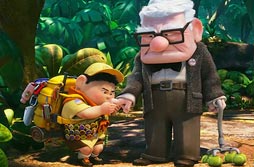 Walt Disney Pictures has debuted the second "Upisode" for Pixar's  film "Up" showing Russell trying to apply a Band-Aid to Carl Fredricksen's scraped knuckle. This clip are content created purely for promotional purposes and are not scenes from the movie itself.
Carl Fredricksen spent his entire life dreaming of exploring the globe and experiencing life to its fullest. But at age 78, life seems to have passed him by, until a twist of fate (and a persistent 8-year old Wilderness Explorer named Russell) gives him a new lease on life. "Up" takes audiences on a thrilling journey where the unlikely pair encounter wild terrain, unexpected villains and jungle creatures.
Pixar's "Up" is directed by Pete Docter (Monsters, Inc) and co-directed and written by Bob Peterson, who wrote "Finding Nemo" previously. The voices are provided by Ed Asner, Christopher Plummer, John Ratzenberger and Jordan Nagai.
"Up" opens on May 29th 2009.
For more info you can go to "Up" FF Movie Page