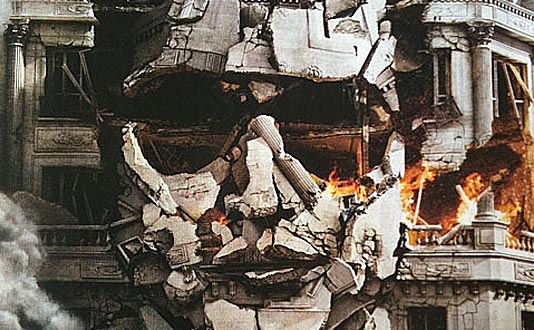 The first poster for Olivier Assayas' epic biopic Carlos, which will premiere in its full five-and-a-half-hour cut at Cannes Fest, about famed terrorist Carlos The Jackal has finally landed and we must admit that it really looks great. Take a look also at several Hi-Res photos from the movie below.
Edgar Ramirez as Carlos As we already wrote this is a three-part TV drama and that's the reason why this movie isn't In Competition, but we're sure that this story about Venezuelan revolutionary, Ilich Ramirez Sanchez is more than interesting. If you are lucky to be at Cannes right now, you can watch the premiere on Wednesday (May 19) at 12 AM, local time. Based on an original idea by Daniel Leconte, written by Olivier Assayas and Dan Franck, directed by Assayas, Carlos tells the story of Ilich Ramírez Sánchez who, for two decades, was one of the most wanted terrorists on the planet. Between 1974, in London, where he tried to assassinate a British businessman, and 1994, when he was arrested in Khartoum, he lived several lives under various pseudonyms, weaving his way through the complexities of international politics of the period.
Edgar Ramirez as Carlos Who was Carlos? How did his various multi-layered identities fit together? Who was he before engaging body and soul in a never-ending struggle? The drama is built around these questions. Check out this more precisely Carlos synopsis: Part one – 98 minutes Ilich Ramírez Sánchez, an activist of Venezuelan origin who fought alongside the Palestinians in Jordan, carries out a series of attacks in London. He then moves to Paris where the Popular Front for the Liberation of Palestine (PFLP) puts him in charge of its European branch under the command of a Lebanese militant, Michel Moukharbal, alias "André". He coordinates several operations, in particular the hostage taking in the French Embassy in The Hague by militants of the Japanese Red Army.
When André is arrested, French agents of the domestic intelligence service, the DST, want to know more about Ilich, who has by now adopted the nom de guerre Carlos. To escape arrest, Carlos shoots three policemen. He then joins the head of the PFLP, Wadie Haddad, in southern Yemen. Haddad entrusts him with a daring mission – taking hostage the oil ministers of the OPEC countries at their forthcoming conference in Vienna. Part two – 106 minutes The majority of this second episode is devoted to a detailed account of the operation that remains one of the most spectacular terrorist acts of the period. Leading a groupof six militants – leftists from German Revolutionary Cells and Palestinian militants including Anis Naccache – Carlos seizes control of the OPEC headquarters, taking ministers and accompanying delegates hostage. He is at the height of his notoriety in the media. However, by finally releasing the ministers at Algiers airport in exchange for a large ransom, he fails the mission that Haddad had given him.
This marks the end of relations between the two men. From now on, Carlos becomes a mercenary for hire to whichever country offers the most. First Iraq, then Syria. He switches operations to behind the Iron Curtain, moving between Budapest and East Berlin under the protection of the Stasi. He works with the remnants of the Revolutionary Cells, in particular Johannes Weinrich and his wife Magdalena Kopp, who soon leaves Weinrich for Carlos.
Part three – 115 minutes Carlos' band, based in Budapest and protected by Syria, fosters links with various clients interested in their particular capabilities, among them Ceausescu's Romania and Libya. This intense activity of geopolitical destabilization, orchestrated by Carlos who is trafficking arms, handling huge sums of cash and leading the life of the Godfather of European terrorism, is soon to come to an end. His decline is of course closely linked to the changes in the world order.
With the fall of the Berlin Wall, he loses several of his backers and his arena of operation is drastically reduced. The last place offering refuge is Sudan: Carlos is by now a retired terrorist, tracked by the secret services of several countries, abandoned by his closest allies, a long way from the center stage of international politics. His role as a player is over; he is left to observe the shifts in global power from a distance. With the complicity of the Sudanese authorities, he is captured and brought back to Paris, to stand trial for crimes that have not been forgotten in France. So, Carlos movie stars Edgar Ramirez as Ilich Ramírez Sánchez aka Carlos, Nora von Waldstatten as Magdalena Kopp, Alexander Scheer as Johannes Weinrich, Zeid Hamdan as Youssef, Christoph Bach as Hans-Joachim Klein 'Angie', Julia Hummer as Gabriele Krocher-Tiedemann 'Nada', Susanne Wuest as Edith Heller and Anna Thalbach as Inge Viett among many others.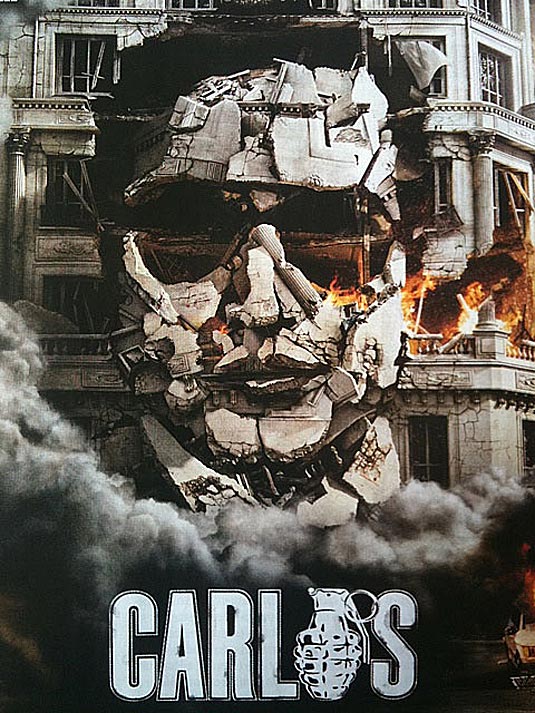 Carlos Poster