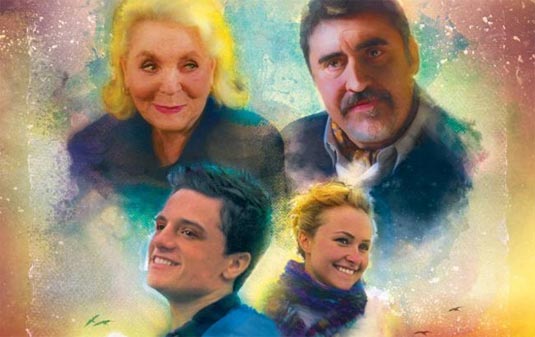 Experience Media Studios announced today it has completed production on
Carmel-by-the-Sea
, the feature-length film based in the famous art community of Carmel, California. The film is produced by
Craig Comstock
and Experience Media Studios CEO
Michael-Ryan Fletchall
.
Carmel-by-the-Sea
features an all-star cast led by Academy Award® winner
Lauren Bacall
("Howl's Moving Castle"),
Josh Hutcherson
("Red Dawn"),
Alfred Molina
("Prince of Persia"),
Hayden Panettiere
("Heroes"),
Dina Eastwood
("True Crime"),
Billy Boyd
("Lord of the Rings"), and
Alexandra Carl
("Gossip Girl").
Carmel-by-the-Sea
producer Craig Comstock has a long-standing relationship with Experience CEO Michael-Ryan, calling the company to partner responsibilities on the film and help guide completion of the film. Experience Media Studios reorganized the film, raising an additional round of funding and completed the ensemble cast, feature-film. By raising the additional funding round, Experience Media Studios eliminated any outstanding debt on the film, obtaining the film and its worldwide rights from its former owners. Experience Media Studios is now exploring relationships with several major distributors to release the film on an international theatrical release.
"We are excited to have completed 'Camel-by-the-Sea' by partnering with Craig Comstock and are confident the finished product will exceed expectations to investors and the hundreds of Carmel residents who contributed to a film that uses the tapestry of the famous coastal art colony and its community as the backdrop for this story," said Michael-Ryan Fletchall, CEO, Experience Media Studios. "With its stellar cast and pristine backdrop, Craig saw the true value in completing 'Carmel-by-the-Sea' and we were happy to help raise the funds and oversee other aspects to make that happen."
Experience Media Studio completed the film outright filming additional scenes, adding aerial photography, music and completing post-production in just 12 weeks.
"With the work done on the financial and creative side of 'Carmel-by-the-Sea' we are now looking forward to the film's acquisition process, ensuring this film gets the proper theatrical release it deserves," said Craig Comstock. "Strong roles played by Josh Hutcherson, Alfred Molina, Hayden Panettiere, a moving performance by the legendary Lauren Bacall, and the cinematography showcasing the shimmering town that is Carmel, is something that needs to be experienced on the big screen."
Carmel-by-the-Sea
follows a 15-year-old art prodigy Joshua (Josh Hutcherson), abandoned by his drug-addicted mother in Carmel-by-the-Sea, a small town in northern California known internationally for its local art community. He is discovered for his own artistic talent and taken in by two apparently opposite mentors played by Alfred Molina and Lauren Bacall. While being mentored, Joshua is introduced to the high dollar, underground world of art forgery. Joshua's love interest is played by Hayden Panettiere. Jason Kay, Experience Media Studios' VP of Production, oversaw the completion of "Carmel-by-the-Sea". The film is directed by Lawrence Roeck, cinematography by Walt Lloyd, edited by Michel Aller, and music composed by Jim Dooley.
Carmel-by-the-Sea Poster