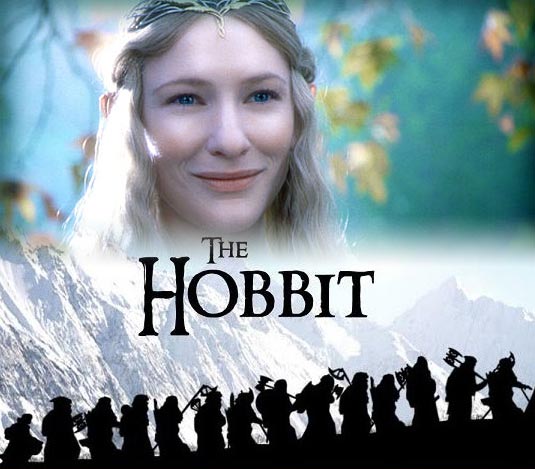 Warner Bros. New Line Cinema and MGM announced today that Oscar-winning actress
Cate Blanchett
has joined the cast of
Peter Jackson
's long awaited two-part adaptation of J.R.R. Tolkien's
The Hobbit
. Jackson expressed his excitement with having Blanchett back on board:
"Cate is one of my favorite actors to work with and I couldn't be more thrilled to have her reprise the role she so beautifully brought to life in the earlier films."
Warner Bros, New Line Cinema and MGM confirmed earlier reports that
Sylvester McCoy
will play Radagast the Brown and added that
Ken Stott
is the Dwarf Lord Balin; Swedish actor
Mikael Persbrandt
is the shapeshifter Beorn; British actor
Ryan Gage
is Drogo Baggins; and New Zealanders
Jed Brophy
and
William Kircher
will play dwarves Nori and Bifur respectively. Previously announced were
Martin Freeman
(Bilbo Baggins),
Richard Armitage, Aidan Turner, Rob Kazinsky, Graham McTavish, John Callen, Stephen Hunter, Mard Hadlow, Peter Hambleton, James Nesbitt
and
Adam Brown
. The script for the movie was co-written by Jackson, Fran Walsh,
Philippa Boyens
and
Guillermo del Toro
. Jackson, Walsh and
Carolynne Cunningham
are producing the films, with Phillipa Boyens serving as co-producer and
Ken Kamins
executive producing. Production on
The Hobbit
will begin this February in New Zealand and the first movie is scheduled for release in 2012. The second should follow a year later in December, 2013.
The Hobbit