China has blocked a Hollywood movie reportedly starring
John Cusack
and
Gong Li
from being shot in the country because of concerns about the script. Luan Guozhi, director of international cooperation at China's Film Bureau, declined to reveal the government's concerns about the story for "
Shanghai
," but said the filmmakers could make changes and reapply. "We suggest they make some changes to the script and resubmit their application," he said. "Shanghai" is about an American who investigates his friend's death in World War II-era Japanese-occupied Shanghai.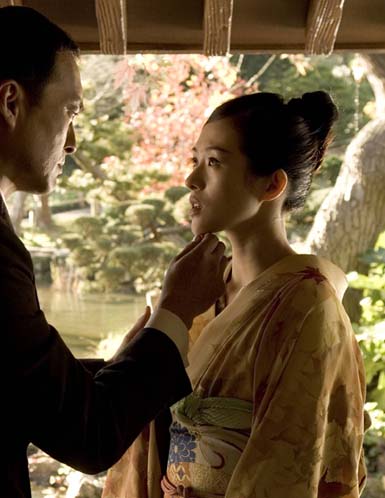 Zhang Ziyi and Ken Watanabe in 'Memoirs of a Geisha'
Producer Mike Medavoy confirmed China's decision to block the shoot, but didn't give a reason for the denial. Filmmakers have already spent hundreds of thousands of dollars and director
Mikael Hafstrom
has been in China since September preparing for the movie. According to Variety, Hafstrom plans to move the shoot to Hong Kong. Variety has reported the movie stars Cusack, China's Gong Li and Japan's
Ken Watanabe
, and that producers are in negotiations with Hong Kong actor Chow Yun-fat. Japan's World War II-era invasion of China is a sensitive topic, especially about Nanjing, where historians say Japanese troops killed 150,000 Chinese civilians and raped tens of thousands of women in 1937. Other filmmakers have had difficulty getting official approval for projects set in the same era. Oscar winner
Ang Lee
acknowledged he edited dialogue in his spy thriller "
Lust, Caution
," also set in World War II-era Japanese-occupied Shanghai, so that the main character would appear less of a traitor to the Chinese cause. "
Memoirs of a Geisha
," a Hollywood movie starring Gong Li and another major Chinese star,
Zhang Ziyi
, as Japanese entertainers, wasn't shown in China amid speculation officials feared the film would spark a major backlash.