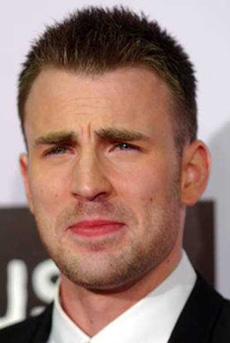 Chris Evans
has been cast to play
Marvel
's super hero icon,
Captain America
, or if you prefer – Steve Rogers, and this will be the fourth comic book character Evans plays on the big screen. And just for a record, Evans beat out a number of high-profile actors, such as
John Krasinski, Channing Tatum
and
Ryan Phillippe
…
Joe Johnston
will direct from a script by
Christopher Markus
and
Stephen McFeely
. So, we all know Captain America is a fictional character from Marvel's comic books, that first appeared in 1941, and was created by
Joe Simon
and
Jack Kirby
. We also know that, over the years, an estimated 210 million copies of
Captain America
comic books have been sold in a total of 75 countries, so Captain is, without a doubt, a very popular guy. Who wouldn't like him when his strength, endurance, agility, speed, reflexes, durability and healing are at the highest limits of natural human potential? Do you already imagine Chris Evans in this role? Ok, he previously played hot-head Johnny Storm in 20th Century Fox's two
Fantastic Four
movies. But since he took this role, he'll be committed to a number of future Marvel films – Evans will star in three Captain America movies, starting with
The First Avenger: Captain America
. Evans would also reprise the role in the sequel,
The Avengers
, which will unite
Iron Man
(Robert Downey Jr.) and
Thor
(Chris Hemsworth) in the same film. That movie will be released on May 4, 2012. So this could be a very nice decision, you'll agree. And check
The First Avenger: Captain America synopsis
: Born during the Great Depression, Steve Rogers grew up a frail youth in a poor family. Horrified by the newsreel footage of the Nazis in Europe, Rogers was inspired to enlist in the army. However, because of his frailty and sickness, he was rejected. Overhearing the boy's earnest plea, General Chester Phillips offered Rogers the opportunity to take part in a special experiment… Operation: Rebirth. After weeks of tests, Rogers was at last administered the Super-Solider Serum and bombarded by "vita-rays." Steve Rogers emerged from the treatment with a body as perfect as a body can be and still be human. Rogers was then put through an intensive physical and tactical training program. Three months later, he was given his first assignment as Captain America. Armed with his indestructible shield and battle savvy, Captain America has continued his war against evil both as a sentinel of liberty and as leader of the Avengers. Yeah, definitely good decision! And looks like we won't have to wait too long since the director Joe Johnston wants to film
The First Avenger: Captain America
in England this year, and the movie is set to open on July 22nd, 2011. Get ready for Captain America!