Movie Photos
Christoph Waltz in DJANGO UNCHAINED First Look!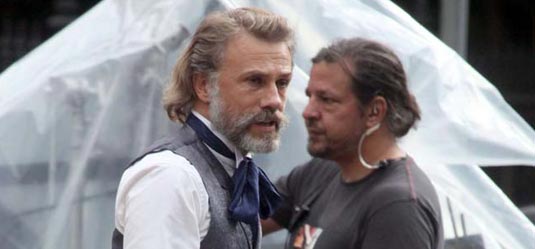 Well, it was about time to see something from Quentin Tarantino's Django Unchained. And I'm sure you're thrilled as I am because the first set photo features great Christoph Waltz as Dr. King Schultz. So, here's our first look at Waltz as the bounty hunter who teams up with a freed slave (Jamie Foxx) to track down his wife (Kerry Washington) who is being held by a sadistic plantation owner, Calvin Candie (Leonardo DiCaprio).
The cast also includes Samuel L. Jackson, Kurt Russell, M.C. Gainey, Dennis Christopher, Gerald McRaney, Laura Cayouette, Don Johnson, Tom Savini, Sacha Baron Cohen and Joseph Gordon-Levitt. Django Unchained is set to open on December 25th, 2012 and as usual we'll keep an eye on it so stay tuned!