Movie News
Cobie Smulders on Reprising Maria Hill in CAPTAIN AMERICA: THE WINTER SOLDIER and S.H.I.E.L.D.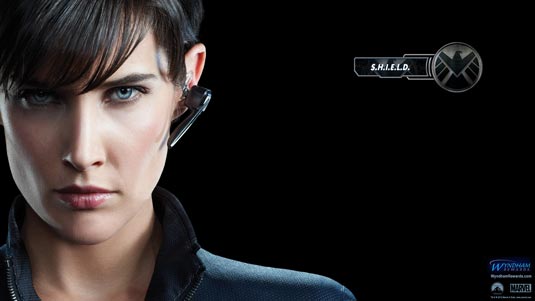 After portraying the S.H.I.E.L.D. Deputy Director in Marvel's The Avengers last year, Cobie Smulders is expected to reprise the Maria Hill role in Captain America: The Winter Soldier. In a recent interview with I Am Rogue, the actress discussed the sequel and, more interestingly, the definite possibility for her to appear in Marvel's TV adaptation of S.H.I.E.L.D. About the script for Captain America: The Winter Soldier, Smulders reveals:
"I've seen parts of it, but yeah I don't know much. This is Marvel! They don't let you know anything. It's very watermarked scripts, heavily watermarked," she explained. "Yeah, they don't let you know like the day of, but they are very secretive and I think they are still figuring stuff out. I don't know the exact dates [of filming begins]. I know it's some time in March or June."
On whether Maria Hill could appear in Joss Whedon-directed S.H.I.E.L.D. small-screen adaptation, Cobie Smulders states,
"The commitments to How I Met Your Mother don't affect it. And I can't really say, but there are definite talks about it."
Even if those 'definite talks' fall through, the actress says she's thrilled for the opportunities in the sequels to Captain America and The Avengers and beyond:
"Oh yeah! I'm very excited. I will do Maria Hill until they fire me and hire someone else to do it."
Synopsis:
Marvel's Captain America: The Winter Soldier will pick-up where the highly anticipated film Marvel's The Avengers leaves off, as Steve Rogers continues his affiliation with Nick Fury and the peacekeeping organization S.H.I.E.L.D, and struggles to embrace his role in the modern world. Starring Chris Evans, Anthony Mackie, Sebastian Stan, Frank Grillo, Toby Jones, Cobie Smulders with Scarlett Johansson and Samuel L. Jackson, and directed by Joe Russo & Anthony Russo from a screenplay by Christopher Markus and Stephen McFeely, Captain America: The Winter Soldier is distributed by Walt Disney Studios Motion Pictures and is scheduled for release on April 4th, 2014.