Movie News
Colin Trevorrow and Derek Connolly to Remake the FLIGHT OF THE NAVIGATOR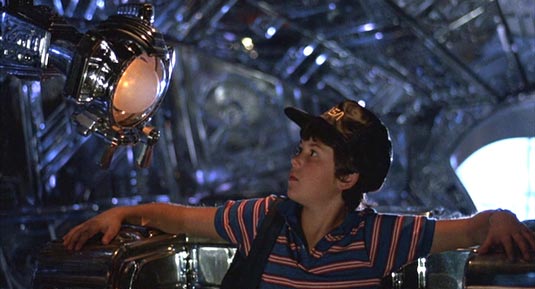 Remember the name
Colin Trevorrow
? We reported a while ago about him being the possible Star Wars: Episode VII helmer and now, after weeks and weeks of rumors, news is now out that he is not taking on Star Wars, but is instead taking on another beloved-nostalgic cinema classic –
Flight of the Navigator
. According to Variety, director Colin Trevorrow and screenwriter
Derek Connolly
, who worked together on this year's indie Safety Not Guaranteed, have been hired by Disney to (at least) co-rewrite the script for one of my personal childhood favorites. The report says that, while Trevorrow and Connolly have been hired to rewrite the script (originally written by
Brad Copeland
), they also add it's being developed "as a potential directing vehicle for Trevorrow." Which means he's not confirmed yet, and will likely develop this until/if Disney is satisfied with their version enough to give it a green light. David Hoberman and Todd Lieberman are producing the remake at Mandeville Films, which has a few good films in the works (Muppets 2).
"Flight of the Navigator wasn't a seminal movie of my childhood but I remember liking it and the original meant a lot to Colin as a kid, so it's really his baby. It'll be good to have some balance so it's not two fanboys writing the movie."
Interesting, but good to hear. Flight of the Navigator (directed by
Randal Kleiser
in 1986) is a story about a young boy, played originally by Joey Cramer, who discovers a sleek metallic spacecraft from another part of our universe that he takes for a ride around the world as government agents chase him down. Ever since the premiere at the Sundance Film Festival this January, Trevorrow and Connolly have lined up a number of projects, including selling another untitled script to Disney, setting up indie Intelligent Life next, and Connolly working on an unnamed Pixar project. Now we know that the quote:
"One upcoming project, I will say, will probably create a good deal of ire against me on the Internet when people find out what it is. So, I just want to say in advance that I promise you, for all those who love the mythology that I will be tackling, trust that I love it as much as you do. And I will respect it, and hopefully make it not suck."
wasn't related to Star Wars.
Flight of the Navigator Trailer (1986)