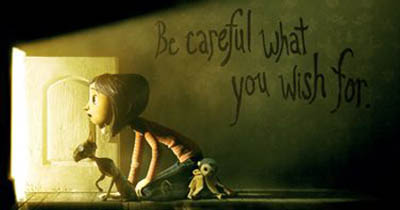 Take a look at the new poster for the upcoming 3-D animated "Coraline," directed by Henry Selick based on Neil Gaiman's international best-selling book. A young girl (Dakota Fanning) walks through a secret door in her new home and discovers an alternate version of her life. On the surface, this parallel reality is eerily similar to her real life – only much better. But when this wondrously off-kilter, fantastical adventure turns dangerous, and her counterfeit parents including Other Mother (Teri Hatcher) try to keep her forever, Coraline must count on her resourcefulness, determination, and bravery to get back home and save her family.

 

[flv]http://www.worstpreviews.com/trailers/coraline_teaser.flv[/flv]

"Coraline" is scheduled to hit theaters on February 6th, 2009.