Movie News
Daniel Craig Cautious About Future as James Bond 007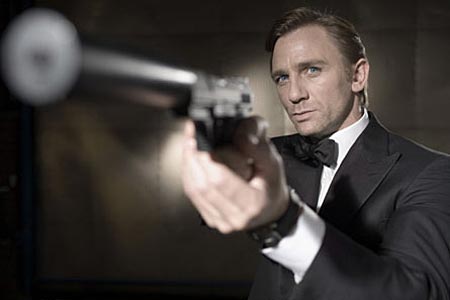 Speaking to
Playboy
magazine, actor
Daniel Craig
has revealed that despite the fact that he signed a contract for a total of four
James Bond
films, he is not sure that he will return for the third installment. Craig said that where he goes from here depends on "
Quantum of Solace
."
"I did sign on for four so a piece of paper says there are two more to do," he commented. "But let's see how this one goes. In the film business, everything doesn't always go according to plan. We'll wait and see. If it goes wrong, we'll have to rethink things."
Re-reading Ian Fleming's James Bond books made movie hunk Daniel Craig broody and miserable – and that was a good thing. The British stud, who first played 007 in Casino Royale, is back for more Bond in new film Quantum of Solace – and he wanted to portray the darker side of the suave superspy. Craig recalled reading the books when he was younger and finding Bond a workaholic depressive – and that's the character he wanted to channel in the latest adventure. He tells:
"I wanted to play around with the flaws in his character. It was much more interesting than having him be perfect and polished. I got most of my inspiration from Ian Fleming's books. I reread them. In the books, Bond is suave and sophisticated, yes… but there's also a flawed aspect of Bond. In the novels he is quite a depressive character. When he's not working, he's at his worst… I can relate."
Picking up an hour after the end of "
Casino Royale
", "Quantum of Solace" resolves around the new adventures of the super spy in a manipulative and dangerous mission of uncovering the truth behind the organization which blackmailed his former lover Vesper Lynd. Fighting the urge to avenge his broken heart, he plunges into the mission that brings him almost around the world and finds out that the organization is more complex and dangerous as his enemy is seeking to dominate one of the world's most important natural resources. Produced by
Michael G. Wilson
and
Barbara Broccoli
and directed by
Marc Forster
, the movie is supported by a slew of other actors, including
Olga Kurylenko, Mathieu Amalric, Gemma Arterton, Jesper Christensen
and
Judi Dench
. It will get its world premiere in London on October 29 which is said to be attended by Prince William and Prince Harry.
"Quantum Of Solace" will hit domestic theaters on November 14th 2008.
Daniel Craig as James Bond