Movie News
Daniel Craig Dusts Up New Character in 'Golden Compass'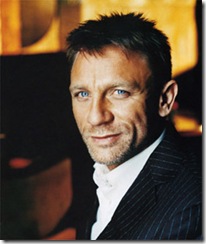 He is already knee-deep in the Bond franchise, but that didn't stop Daniel Craig from signing on for another potential series, The Golden Compass. In fact, the double commitment didn't even cross his mind.
"I genuinely was such a fan of the books that when I heard that they were making it I thought, 'I'd like to do this. I'd like to get involved,'" Craig explains. "I'm such a big Philip Pullman fan and his philosophies and his morals and the way he looks at the world. He writes children's stories, but with major adult themes and sort of major ideas about being a good person and making the right choices."
The story, based on Pullman's His Dark Material trilogy, takes place in a world where each human has an animal spirit companion who acts as a manifestation of their soul. Twelve-year-old Lyra [Dakota Blue Richards] and her ever-changing animal friend Pantalaimon live as wards of Jordan College while Lyra's uncle, Lord Asriel [Craig], travels to the Arctic and beyond searching for a controversial substance called Dust. Soon the precocious preteen finds herself on a journey all her own.
When Hollywood.com met up with Craig in London, he gushed about his talented young costar, what's in store for everyone's favorite secret agent, and playing the fame game…
Interview: hollywood.com
Golden Compass Movie Trailers: