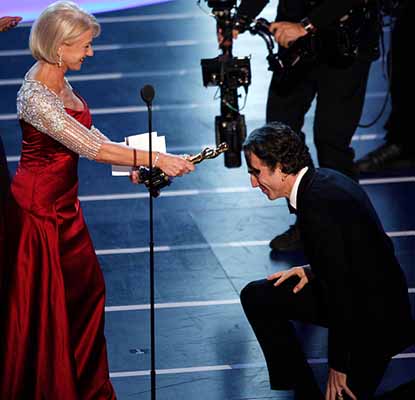 Having just been announced as Best Actor in There Will Be Blood, Daniel-Day-Lewis was 'knighted' by last year's British success story, Dame Helen Mirren. Imitating the famous pose on stage at Hollywood's Kodak Theatre, the London-born actor joked about her performance as the Queen, saying:
'This is the closest I'll ever come to getting a knighthood, so thank you'.
Day-Lewis, 50, capped a series of previous honours for his searing performance in 'There Will Be Blood', taking the second Oscar of his career. He previously took the Oscar for the 1989 movie 'My Left Foot: The Story of Christy Brown'. British Oscar winner, Day-Lewis beat out fierce competition from Hollywood veterans George Clooney, Johnny Depp, Tommy Lee Jones and Viggo Mortensen. He was considered the favourite for the award after winning honours at various pre-Oscar events. As he took the stage to accept his latest award, he kissed George Clooney, who was nominated for 'Michael Clayton'.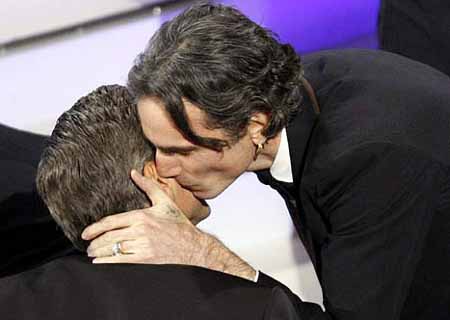 Lewis – Clooney spooky kiss

Day-Lewis is known for his intense preparation for his roles. He took four years working on his character with 'There Will Be Blood' director Paul Thomas Anderson and has said he could spend 10 years making a movie if a part really interested him.
'Deepest thanks to members of the Academy for whacking me with the handsomest bludgeon in town', said Day-Lewis. 'I hope that all those to whom I owe and feel the deepest gratitude will forgive me if I say just simply, thank you all'.
He said he was accepting the Oscar in memory of his grandfather Michael Balcon,who ran Ealing Studios, his father British poet Cecil Day-Lewis and his "three fine boys." Day-Lewis has three sons, one with French actress Isabelle Adjani and two boys with Rebecca Miller, the daughter of the late U.S. playwright Arthur Miller.