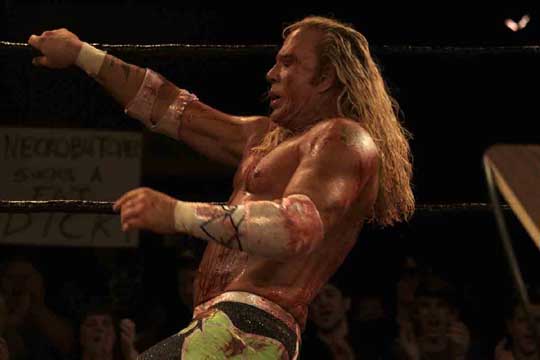 Venice Film Festival
will be remembered for Rourke's performance in Darren Aronofsky's "
The Wrestler
", which the actor and critics agree is his best yet. "The Wrestler" won the coveted
Golden Lion
award for best movie on Saturday. "
Darren Aronofsky
came here a couple of years ago and fell on his ass,"
Mickey Rourke
told a packed Sala Grande crowd after the award was announced, referring to Aronofsky's "The Fountain," which flopped in Venice in 2006. "I'm glad he had the balls to come back. I don't think he wanted to come back but I told him, "You have to come back' and he did." The award seals his comeback from the Hollywood wilderness, and comments that Rourke is ready to ditch his bad-boy image and cooperate with directors suggest there is more to come. "A guy like me changes hard, I didn't want to change, but I had to change," the star of 1980s hits "9-1/2 Weeks" and "Angel Heart" told in an interview in Venice. There was controversy at Saturday's closing ceremony when jury president Wim Wenders criticized rules which prevent the Golden Lion winner also picking up best acting prizes, suggesting Rourke should have won that too. The
Silver Lion
for best director was won by Russia's
Alexei German Jr.
for "
Paper Soldier
", set on the windswept steppes of Kazakhstan and centring on the 1960s Soviet space program. The best actor prize went to
Silvio Orlando
for his acclaimed portrayal of an overprotective father in "
Il Papa di Giovanna
" (Giovanna's Father). The best actress prize went to France's
Dominique Blanc
in "
L'Autre
" (The Other One), a haunting tale of a woman who becomes dangerously obsessed with a young ex-boyfriend. "
Teza
", by Ethiopian director
Haile Gerima
, picked up two prizes, the special jury award and best screenplay. The story chronicles the life of an Ethiopian intellectual who flees his country during the Marxist "red terror" in the 1980s, only to be attacked in Germany by racist youths.
Jennifer Lawrence
of the United States was named best emerging actress for her role in "
The Burning Plain
", in which she appeared alongside
Kim Basinger
and
Charlize Theron
. As well as "The Wrestler", "
The Hurt Locker
" by U.S. director
Kathryn Bigelow
impressed critics with its portrayal of the perils faced by a bomb disposal unit in Iraq, while actress
Anne Hathaway
generated awards buzz in "
Rachel Getting Married
".