Movie News
Director Lu Chuan Uses THE LAST SUPPER For Retelling China's History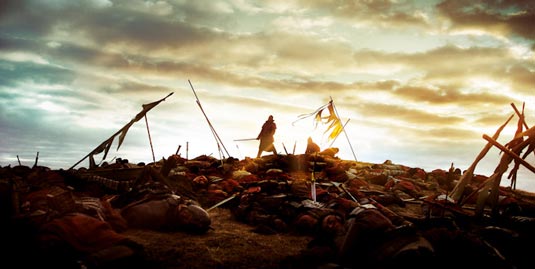 Chinese director Lu Chuan presented his first film at Venice, received the top prize at Taiwan's Golden Horses with his second, and won the Golden Shell award at San Sebastian with his third film. With such start, I'd say he can only ascend further, and the films are quite a proof of his boldness when choosing theme and setting for them – as he goes from an urban thriller (The Missing Gun, 2002) to a thriller set among hunters on the Tibetan plateau (Kekexili: Mountain Patrol, 2004) to a black-and-white feature about the Japanese army's massacre of Chinese civilians in Nanjing during the Second World War (City of Life and Death, 2009). And then there's The Last Supper. The story follows Liu Bang (played by Liu Ye), the first emperor of China's Han Dynasty. It's a typical story of how an uncultured, uneducated brute grabs power, basks in its excess, grows paranoid and starts destroying anyone who looks like a threat (like general Han Xin, played by Chang Chen). The film was supposed to be released way back in July, but it got censored for what Lu and his producers described as "non-commercial reasons" (well, you know how things in China are); a while later, the director talked about how officials thought The Last Supper is actually a 'poorly-concealed metaphor' of the excesses of Mao Zedong, who had his deal of purging during his long rule, in order to consolidate his control of the country. The film premiered at Toronto in September, and was finally released in China at the end of November. While the film received warm reviews at festivals, local audiences were less appproving:
"Oh, I was called a traitor and all sorts, yes. A lot of people who were ranting against me actually hadn't seen the film – they were just incited by others to come out and give me a hard time. I haven't changed the way I approach history in my films – you can just have a look at The Last Supper and you will know." "It was a tiring end to a patience-testing project – but a mission that needs to be done to illustrate the roots of traditional power relationships in China",
told Lu to The Hollywood Reporter in Hong Kong, prior to the film's release in the city on January 3rd, 2013. If you wish, you can read the rest of the interview here.