Movie News
Disney Re-teaming Toy Story Pair for Jungle Cruise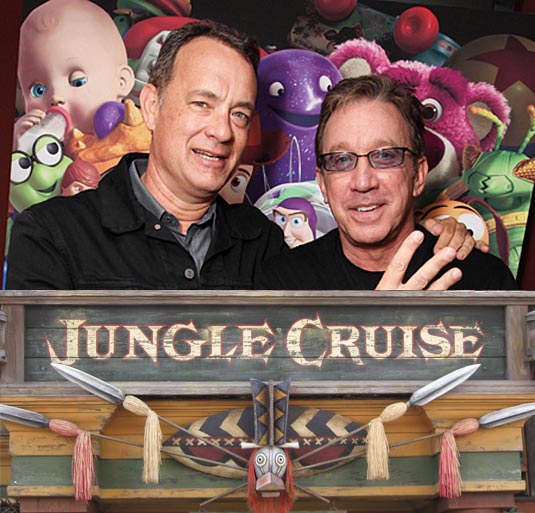 As Deadline first reported and has been lately confirmed by Disney Tom Hanks and Tim Allen have teamed up to launch the live action Jungle Cruise.
It will be for the first time since their voice work in the roles of Woody and Buzz Lightyear in the Pixar and Disney Toy Story trilogy.
Disney is joining the pair together to star in Jungle Cruise, an adaptation based on the Disney theme park ride of the same name. The project has been withdrawn for years with Roger S. Schulman (co-writing duties on Shrek and Jonas) recently brought on-board to write a new draft of the screenplay.
The original attraction following Jungle Cruise theme parks imitates a riverboat cruise down some major rivers of Asia, Africa and South America. Parks guest board copy tramp steamers and are taken on a tour past many different animatronic jungle animals. The trip is led by a live Disney cast member who delivers an entertaining scripted commentary.
In addition to a tandem of big name stars, movie project Jungle Cruise has some achieved producers driving the ship. David Hoberman and Todd Lieberman are part of the set behind the film. They're coming off an exceptionally successful job as role of the producing team behind the scenes Paramount's The Fighter with Best Actor winner Christian Bale.
Tom Hanks will allegedly play a family man taking a journey on the boat while Tim Allen will play the boat's captain. Additional story details are being kept under wraps but Disney is assuring the story will have some twists, spins and flip overs that make it more than a traditional family adventure film so it can ends up with something fresh and new.
Job will begin to bring a director on board once Schulman puts on a Jungle Cruise draft that suits Disney and the producers.
This isn't the only Disney attraction-based movie in works: Jon Favreau was in talks in the fall to direct "Magic Kingdom" and the studio has a project in development called "Tiki," based on the Enchanted Tiki Room.
Say what you will about Disney?
[youtube]http://www.youtube.com/watch?v=gDsiCwd6MIk[/youtube]
Magic Kingdom Jungle Cruise Adventureland Walt Disney World