Movie Trailers
Don't Miss 2 New Clips From WELCOME TO THE JUNGLE, Starring Jean Claude Van Damme!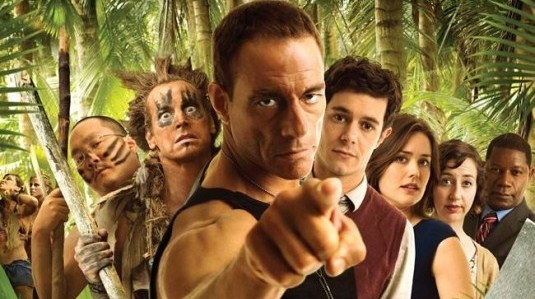 Are you ready to look the Devil in the eyes? You are? Good then, we have two great clips from the upcoming Welcome To The Jungle comedy (yes, please, have this in mind – it's a comedy!) which comes from director Rob Meltzer and has quite interesting cast on board. Just imagine Jean Claude Van Damme and Adam Brody, and… well, check the rest of this report to find out the full cast list as well as two awesome videos! So, the story starts with Adam Brody aka Chris, a workplace weakling who doesn't have the balls to stand up to the slick office bully, Phil, played by Rob Huebel. Like that's not enough, Chris has no courage to ask out cute HR manager, Lisa, played by Megan Boone, and his only friend, Jared, is a sarcastic slacker IT guy who secretly monitors everyone's porn intake.
Of course – Jared, played by Eric Edelstein thinks that Chris is some kind of a pussy, or something. By now – you see that things are not going so well for poor Chris guy, right? But, that will soon change! Because when you have such a miserable life, you must do something…. like take a team-building wilderness seminar. [jwplayer mediaid="121795″] Unfortunately, that goes horribly wrong as well, and now the only guy who can save the day is – you're guessing correctly – Jean Claude Van Damme who plays an ex-marine teambuilding coach named Storm. That crazy guy, as you'll see in these videos, gets mauled by a cougar and Chris and his co-workers find themselves stranded on a deserted tropical island with no rescue in sight… [jwplayer mediaid="121796″] Who's going to have to step up and take charge? We have no idea! Maybe Chris will finally release his inner-beast? Let's wait and see! At this moment we have no idea when this movie will open, but don't worry, we'll keep an eye on it! In the meanwhile, let us know what you think about it!