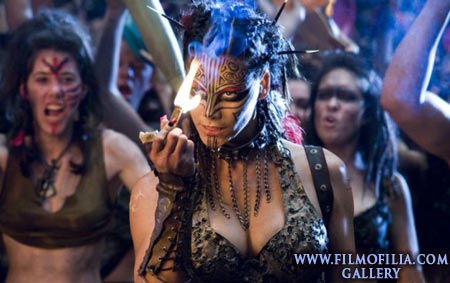 Neil Marshall who directed two of the best British horror/sci-fi films in recent memory, 'Dog Soldiers' and 'The Decent' returns with a post-apocalyptic vision of the future in 'Doomsday.'
In this trailer it starts with a strong nod to '28 Weeks Later' as a virus ravaged Scotland is sectioned off to avoid contaminating the rest of the UK, not a bad idea?
Marshall's love of James Cameron comes to the fore as heroine Rhona Mitra leads a crack team into the forbidden zone many years later in search of a cure in sequences 'inspired' by Aliens.
Then the whole thing goes a bit 'Mad Max' as a vagabond band of 'survivors' lead by Malcolm McDowell go mental and much mayhem ensues.
Looks pretty decent, despite some wooden turns by the largely British cast, judge for yourself.
Watch 'Doomsday' trailer after jump
The film is released in the States on March 14.