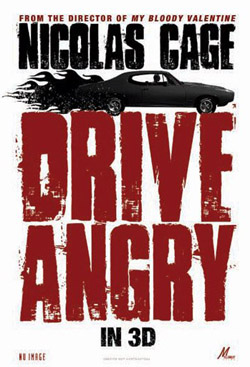 Drive Angry is an upcoming psychological action-thriller directed by Patrick Lussier with some great cast.
And when we say great, we mean really great! Because this project already includes Nicolas Cage, Billy Burke, Amber Heard, William Fichtner, Katy Mixon and Kaley Cuoco. How about that?
Definitely sounds like something interesting is coming to the big screens, and thanks to guys from Collider, who are carefully looking at this project, we're here today to share some details about the story that:
"centers on a man driven by rage (Nicolas Cage) who is chasing the people who killed his daughter and kidnapped her baby. The vendetta/rescue spins out of control as the chase gets bloodier by the mile, leaving bodies strewn along the highway."
Nicolas Cage stars as Milton, character he already described as: "…a protector of children when something horrific is about to happen to children, he is awakened from the abyss and I like characters that have supernatural aspects to them because I feel like you can do more with them."
Along for the ride is Amber Heard as diner waitress Piper. Lovely actress described her character this way: "She's this bad-mouthed, chain-smoking kind of vigilante of the movie. She's got a lot of spirit and a lot of spunk. A lot of balls, I guess you could say. "
At their heels is William Fitchner as The Accountant, an agent of the afterlife charged with returning Milton to his eternal damnation. Fitchner looks really excited about his role, since he said: "I think this is the best role I've ever had. It's a really deep-layered character, and nothing's more exciting than that. He wears one suit with one tie and one shirt. And he always looks really, really good."
Drive Angry is written by Todd Farmer, movie is being filmed in 3D! And, just in case you were wondering why 3D again, here's some pretty good Todd Farmer's explanation about that for the end of this report:
"If you look at the Charger and you compare it to other cars, the way the lines work, the tires, in 3-D it's gorgeous. One thing that we found was that the reflective surface was weird. It does funny things in 3D. So you have to deal with that. I mean, 3D adds a whole level of 'oh my goodness' to the movie in good ways and bad ways that you have to deal with."
The movie gets released February 11, 2011. Get ready for some "blood-spattered road trip through hell" guys, and stay tuned!