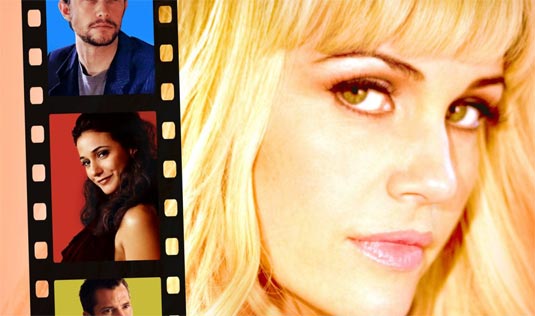 Check out the trailer, and poster for the upcoming Sebastian Gutierrez comedy Elektra Luxx. The movies stars Carla Gugino as the title character alongside Adrianne Palicki, Emmanuelle Chriqui, Malin Akerman, Christine Lakin, Julianne Moore, Timothy Olyphant, Alicia Silverstone and  Joseph Gordon-Levitt.
Recently retired from the adult film industry, superstar Elektra Luxx (Carla Gugino) is pregnant with the child of late rock star Nick Chapel. She is trying to make ends meet by teaching a community college sex education class aimed at housewives when a figure from her past, flight attendant Cora (Marley Shelton), approaches her with a proposition. In exchange for the (stolen) lyrics to Nick Chapel's last record, all of which is about Elektra, Cora needs Elektra to seduce her fiancee. Elektra reluctantly agrees to do this favor, setting in motion a series of hilarious events which will see her come face to face with detectives, sex bloggers, emotionally unstable neighbors and the Virgin Mary herself as she wrestles with the prospect of motherhood and tries to become a person of substance.
Elektra Luxx will be released in the US on March 11, 2011.
Download Elektra Luxx trailer
HD-Quality 720p [1280 px] − 94 Мb (QuickTime)
HD-Quality 480p [852 px] − 39 Мb (QuickTime)
Elektra Luxx Poster