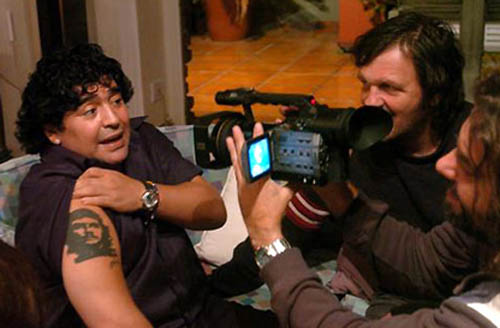 New film '
Maradona
' directed by the award-winning Serbian filmmaker
Emir Kusturica
, in a few days, during the press conference of the
61st Cannes Film Festival
, will finally have the premiere – out of competition/special screenings. The famous Argentine football player
Diego Maradona
should also be present during the festival. The huge delay on this film can be partly explained by the difficulties that Emir Kusturica has had to gather the rights on the numerous archive tapes he wanted to use.
UPDATE

05/21/2008
Diego Maradona and Emir Kusturica about 'Maradona' film
Kusturica has talked of this project several times :
"It is the first film that will treat all the aspects of the life of Maradona. The film will be very complex to make, because I want to show the true personality of Maradona. Football is a science of great mathematical precision! The film ends when the former football player is in good health, and has no more addiction to drugs. We will shoot in the Aztec Stadium in Mexico, where Diego scored one of his most famous goals, during the World Cup 1986 against the English team".
Former member of the band "
Mano Negra
",
Manu Chao
composed great song for this documentary, '
La vida es una tombola
' ('The Life is Gamble') "We met all the three in Naples and it was wonderful. Emir wanted me to sing "Santa Maradona", but I didn't like the idea, so I composed a new song," said Manu Chao.
'La vida es una tombola' – Manu Chao