Movie Photos
Emma Watson Tweets Pic of Self in THE BLING RING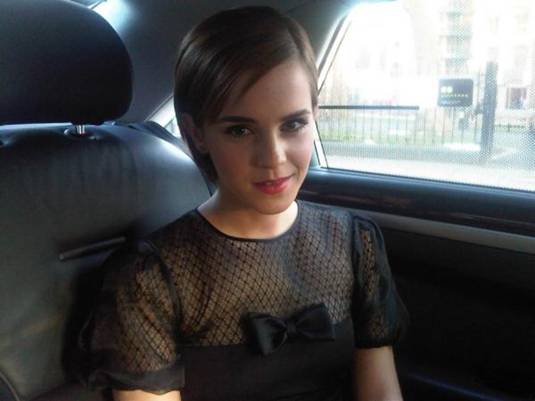 The Harry Potter star Emma Watson tweeted an image of herself to offer fans an extensive peek at her very un-Hermione-like character, the rebellious Nicki. Em wrote in a follow-up post:
Nicki likes Lip Gloss, Purses, Yoga, Pole Dancing, Uggs, Louboutins, Juice Cleanses, Iced coffee and Tattoos.
Oh gosh Yes, she looks like a super chav while wearing Ugg boots and a tiny pink flannel track suit on her current movie project The Bling Ring. You already know, written and directed by Sofia Coppola, the flick is based on the true story of celebrity burglaries committed by a group of teens at the end of the last decade; celebrity homes including those of Lindsay Lohan, Paris Hilton, Rachel Bilson, Megan Fox and Orlando Bloom. Among the offending teens was Alexis Neiers, former Pretty Wild star, who Coppola hired as a 'consultant' on her very own crime story, as well as Brett Goodkin, the detective who led the investigation. Cameos from a whole bunch of other folks including Gavin Rossdale, Kirsten Dunst and the aforementioned Hilton are joined by a mostly no-name cast including Leslie Mann, Taissa Farmiga, Israel Broussard, Katie Chang, Claire Pfister, Georgia Rock and Carlos Miranda. The Bling Ring is expected to hit theaters in 2013.