Movie News
EVANGELION 3.0 set for Blu-ray/DVD release on April 24th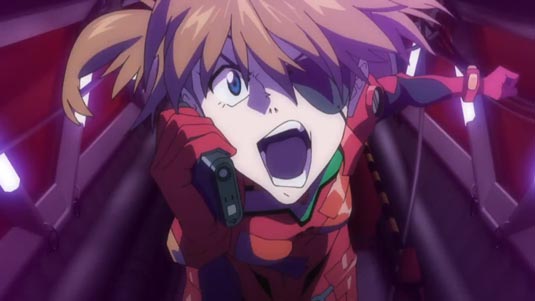 Translated by The Asahi Shimbun from the website Anime Anime:
"Evangelion: 3.0: You Can (Not) Redo will be released on Blu-ray and DVD on April 24th, 2013. The third in the four-part reboot film series of the Evangelion anime series will be renamed Evangelion: 3.33: You Can (Not) Redo for its home video release as a followup to previous installments.
To live up to its title, both the BD and DVD will include "A Giant Warrior Descends on Tokyo" as a special video extra. The live-action "tokusatsu" special effects short film jointly directed by Evangelion creator Hideaki Anno and film director Shinji Higuchi was screened with Evangelion: 3.0 in theaters.
The package will include the 'Rebuild of Evangelion: 3.33' documentary, trailers, TV commercials, the script and a booklet.
The discs will also contain an original soundtrack CD which includes the theme song "Sakura Nagashi" by Hikaru Utada. This will be available for a limited time only.
King Record Co. will release the both editions. The Blu-ray edition will be priced at 6,090 yen ($65), including tax. The DVD version will be priced at a tax-inclusive 5,985 yen.
Evangelion: 3.0 hit theaters nationwide last November 17th, taking the box office by storm. It follows 2007's Evangelion: 1.0: You Are (Not) Alone and 2009's Evangelion: 2.0: You Can (Not) Advance.
The second and third films marked a dramatic departure from the original Neon Genesis Evangelion TV series, much to fans' surprise."