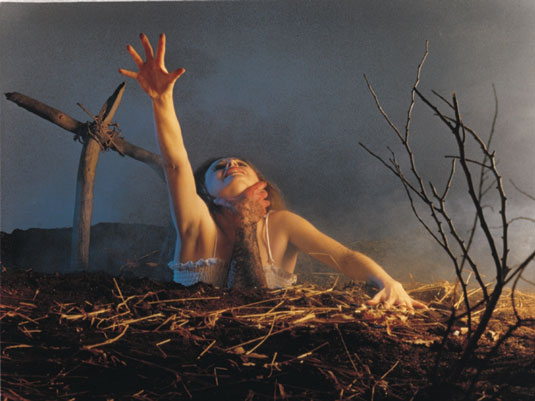 Here's five new photos from
Fede Alvarez
's terrifying-looking remake of
Evil Dead
, thanks to
Bloody-Disgusting
. A couple of them actually look pretty cool. This movie looks like it's going to have a ridiculously epic amount of blood, if judging by what we've seen so far on
trailers
and
clips
. Check these out below:
The story follows five twenty-something friends who become holed up in a remote cabin. When they discover a Book of the Dead, they unwittingly summon up dormant demons living in the nearby woods, which possess the youngsters in succession until only one is left intact to fight for survival. Evil Dead will finally hit the theaters on April 5th, 2013. The horror film was produced by
Sam Raimi
and
Bruce Campbell
, who both love what Alvarez has done with the it. It stars
Jane Levy
,
Shiloh Fernandez
,
Lou Taylor Pucci
,
Jessica Lucas
, and
Elizabeth Blackmore
.