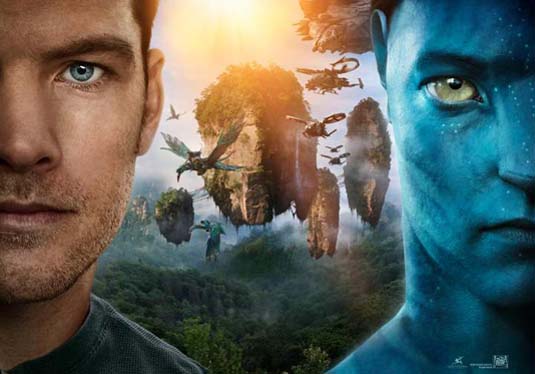 20th Century Fox has been released a new extended TV spot for James Cameron's "Avatar" and you can see some new footage from the anticipated movie.
The story's hero is Jake Sully, a former Marine (Sam Worthington) confined to a wheelchair. Bitter and disillusioned, he's still a warrior at heart. All Jake ever wanted was something worth fighting for, and he finds it in the place he least expected: on a distant world.
Jake has been recruited to join an expedition to the moon Pandora, which corporate interests are strip-mining for a mineral worth $20 million per kilogram on Earth.
To facilitate their work, the humans use a link system that projects a person's consciousness into a hybrid of humans and Pandora's indigenous humanoids, the Na'vi. This human-Na'vi hybrid – a fully living, breathing body that resembles the Na'vi but possesses the individual human's thoughts, feelings and personality – is known as an "avatar."
In his new avatar form, Jake can once again walk. His mission is to interact with and infiltrate the Na'vi with the hope of enlisting their help – or at least their acquiescence – in mining the ore. A beautiful Na'vi female, Neytiri, (Zoe Saldana) saves Jake's life, albeit reluctantly, because even in his avatar body, Jake represents to her the human encroachment on the Na'vi's unspoiled world.
As Jake's relationship with Neytiri deepens, along with his respect for the Na'vi, he faces the ultimate test as he leads an epic conflict that will decide nothing less than the fate of an entire world.
"Avatar," which also stars Sigourney Weaver, Michelle Rodriguez, Giovanni Ribisi, Joel David Moore, CCH Pounder, Peter Mensah, Laz Alonso, Wes Studi, Stephen Lang and Matt Gerald will be released on December 18th 2009.