Movie News
F. Javier Gutierrez to Direct Sci-fi The Greys with a Script by Adam Cohen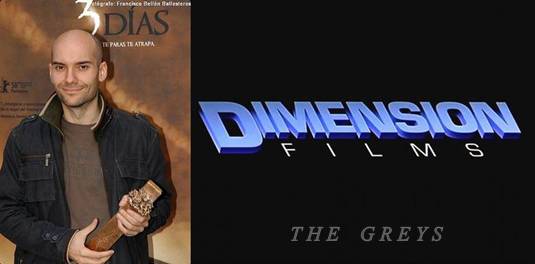 Dimension Films has acquired in advance the spec script The Greys from writer Adam Cohen and from producing partners Sean and Bryan Furst.
F. Javier Gutierrez (Tres Dias a.k.a. Before the Fall) is to direct the film. The statement was made today by Bob Weinstein, co-chairman of The Weinstein Company (TWC). A brief summary of the sci-fi thriller is currently being kept secret.
Francisco Javier Gutiérrez is one of the most awarded and distinguished fantasy genre filmmakers in Spain. His fans regard him as a cult director for his works like the short films Brasil and Norman's Room. In February 2011 he was rumored to be in talks for The Crow reboot but 28 Weeks Later helmer Juan Carlos Fresnadillo is now set to direct.
Back in January 2011 rising Spanish director was reportedly attached to remake the 1933 classic horror The Monkey's Paw as well as a science fiction film called The Greys, following the huge success of his sci-fi Spanish-language thriller Before the Fall. Gutierrez told ScreenDaily that both projects are at advanced stage of development with more details expected soon.
As abovementioned Weinstein has today revealed some preliminary details.
We are thrilled to be collaborating on this exciting script with Adam Cohen, Radar Pictures and The Fursts,"
said Bob Weinstein. "As a fan, I have wanted to work with F. Javier Gutierrez for some time and am happy to join forces on his English language directorial debut."
Sean and Bryan Furst are producing together with Radar Pictures' Ted Field and Mike Weber. They added:
We're energized by the incredible level of passion Bob Weinstein and Dimension have shown for Adam Cohen's thrilling script and for the talented F. Javier Gutierrez, and we all feel it's that kind of passion that makes for an ideal filmmaking partner."
Stay tuned for upcoming news.
[youtube]http://www.youtube.com/watch?v=gcxrsl0RoeU[/youtube]
Before The Fall – 3 Dias, Trailer