Movie Photos
Fast Five Photo: Vin Diesel and Dwayne Johnson!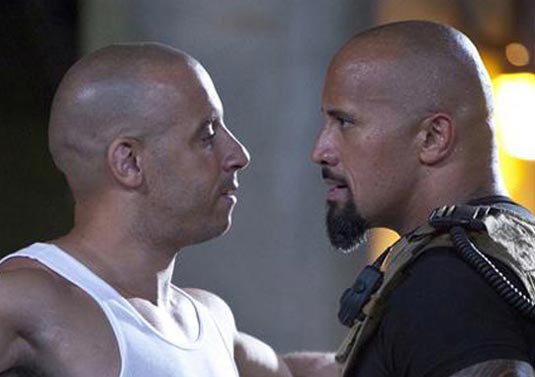 The first official photo from Fast & Furious sequel Fast Five, featuring Vin Diesel and Dwayne Johnson, has arrived online.
The movie is being directed by Justin Lin (Fast and Furious, The Fast and the Furious: Tokyo Drift) and also stars Paul Walker, Jordana Brewster, Chris "Ludacris" Bridges, Tyrese Gibson, Sung Kang, Gal Gadot, Tego Calderon, Elsa Pataky and Joaquim de Almeida.
"One of the things I've always loved about the franchise – the reason I think it's been so successful over the years – is that they never stop trying to up the action,"
Dwayne Johnson says.
Director Justin Lin says:
"If you're going to do a Fast and Furious movie, you've got to go bigger each time," says Lin. "People thought it would be impossible to get Dwayne. But he didn't show up looking to cash a paycheck. That's pretty amazing, for a star like him to join the fifth part of a franchise. That says a lot about him and the fans. I think what keeps it going is that it's not really about cars. I have to be honest: I'm not a big car guy. At the core, Fast and Furious is about family and how to create them.

The vibe was electric when Dwayne walked on set. The whole crew was buzzing with him, Vin, and all these other huge action stars on one set. It was like having (Sylvester) Stallone and (Bruce) Willis in the same movie."
Synopsis: Vin Diesel and Paul Walker lead a reunion of returning all-stars from every chapter of the explosive franchise built on speed in "Fast Five." In this installment, former cop Brian O'Conner (Walker) partners with ex-con Dom Toretto (Diesel) on the opposite side of the law. Dwayne Johnson joins returning favorites Jordana Brewster, Chris "Ludacris" Bridges, Tyrese Gibson, Sung Kang, Gal Gadot, Matt Schulze, Tego Calderon and Don Omar for this ultimate high-stakes race.
Since Brian and Mia Toretto (Brewster) broke Dom out of custody, they've blown across many borders to elude authorities. Now backed into a corner in Rio de Janeiro, they must pull one last job in order to gain their freedom. As they assemble their elite team of top racers, the unlikely allies know their only shot of getting out for good means confronting the corrupt businessman who wants them dead. But he's not the only one on their tail.
Hard-nosed federal agent Luke Hobbs (Johnson) never misses his target. When he is assigned to track down Dom and Brian, he and his strike team launch an all-out assault to capture them. But as his men tear through Brazil, Hobbs learns he can't separate the good guys from the bad. Now, he must rely on his instincts to corner his prey… before someone else runs them down first.
Fast Five (Fast and Furious 5) is scheduled to hit theaters on April 29, 2011. [source: USA Today]

Vin Diesel and Dwayne Johnson in Fast Five