A bunch of car photos from the set of the upcoming sequel Fast & Furious 6, director Justin Lin's highly-anticipated action sequel that hits theaters this summer, have landed online. The gangs all back, again, for even more fast cars, high-speed chases, and explosions. Vin Diesel, Paul Walker and Dwayne Johnson keep the franchise going with Michelle Rodriguez, Jordana Brewster, Luke Evans, Tyrese Gibson, Gina Carano, Gal Gadot and Ludacris. 1969 Dodge Charger Daytona, General Motors LS3 V8, Nissan GT-R, 1970 Ford Escort RS2000, 1971 Jensen Interceptor, Ford Mustang, Dodge Charger SRT8, 2006 Aston Martin… Check out the photos after the jump. Here's the official synopsis for Fast & Furious 6
Since Dom (Diesel) and Brian's (Walker) Rio heist toppled a kingpin's empire and left their crew with $100 million, our heroes have scattered across the globe.  But their inability to return home and living forever on the lam have left their lives incomplete. Meanwhile, Hobbs (Johnson) has been tracking an organization of lethally skilled mercenary drivers across 12 countries, whose mastermind (Evans) is aided by a ruthless second-in-command revealed to be the love Dom thought was dead, Letty (Rodriguez).  The only way to stop the criminal outfit is to outmatch them at street level, so Hobbs asks Dom to assemble his elite team in London.  Payment?  Full pardons for all of them so they can return home and make their families whole again.
Fast & Furious 6 comes to theaters Memorial Day weekend, on May 24th, 2013. In case you haven't already watched it, check out Fast & Furious 6 trailer.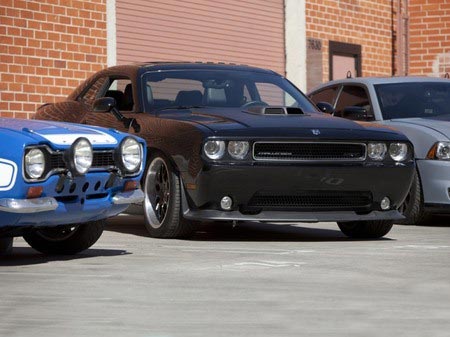 1969 Dodge Charger Daytona
FAST & FURIOUS 6 Cars Set Photos