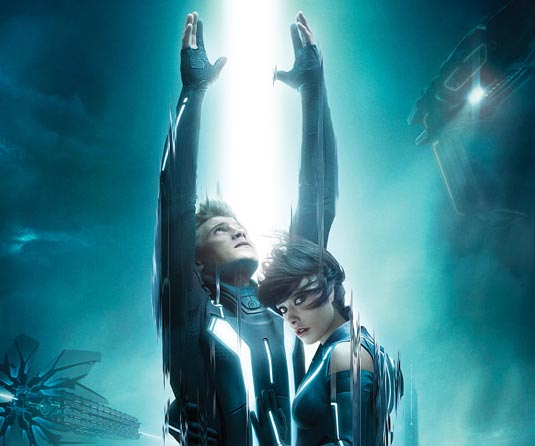 Walt Disney Pictures has revealed the final poster for
Tron: Legacy
,  which features
Garrett Hedlund
as Sam Flynn and
Olivia Wilde
as Quorra, as they pay homage to an original poster from 1982's Tron. You can check out the original poster below as well. Sam Flynn, the tech-savvy 27-year-old son of Kevin Flynn, looks into his father's disappearance and finds himself pulled into the same world of fierce programs and gladiatorial games where his father has been living for 25 years. Along with Kevin's loyal confidant, father and son embark on a life-and-death journey across a visually-stunning cyber universe that has become far more advanced and exceedingly dangerous.
Joseph Kosinski
directs the Sci-Fi thriller, which co-stars
Michael Sheen, Serinda Swan, Bruce Boxleitner
and
John Hurt.
Tron: Legacy
will be hitting 3D theaters and IMAX 3D theaters December 17th, but until then keep it here for all your
Tron: Legacy
news. You can click
here
and browse our gallery of images, posters and wallpapers from the film.
Tron Poster (1982)
Tron: Legacy Poster (2010), Garrett Hedlund (Sam Flynn) and Olivia Wilde (Quorra)