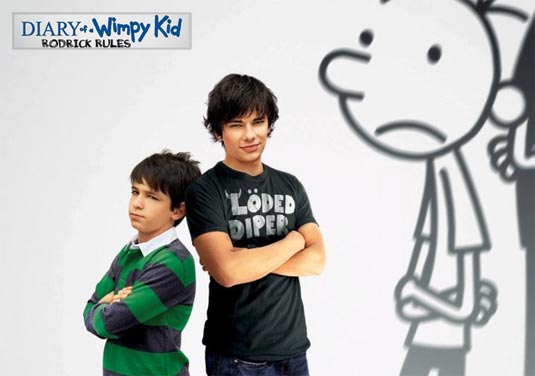 We have added the first poster for 20th Century Fox upcoming comedy
Diary of a Diary of a Wimpy Kid 2: Rodrick Rules
, starring
Zachary Gordon, Robert Capron, Steve Zahn, Rachel Harris and Devon Bostick, Frank Heffley, Susan Heffley
and
Rodrick Heffley
.
Diary of a Wimpy Kid 2
is the sequel to the 2010 comedy movie Diary of a Wimpy Kid. Both films are live-action adaptations based on the Diary of a Wimpy Kid series of children's graphic novels by Jeff Kinney. The stories focus on the adventures (and misadventures) of Greg Heffley (Zachary Gordon). Greg is now a 7th grader, struggling to deal with the tortures of middle school. His older brother, Rodrick (Devon Bostick), then offers to teach him "the secrets of an easy life. The movie is directed by
David Bowers
(Astro Boy, Flushed Away).
Diary of a Wimpy Kid 2: Rodrick Rules
is set for wide release in U.S. theaters on March 25, 2011.
Diary of a Wimpy Kid 2: Rodrick Rules Poster