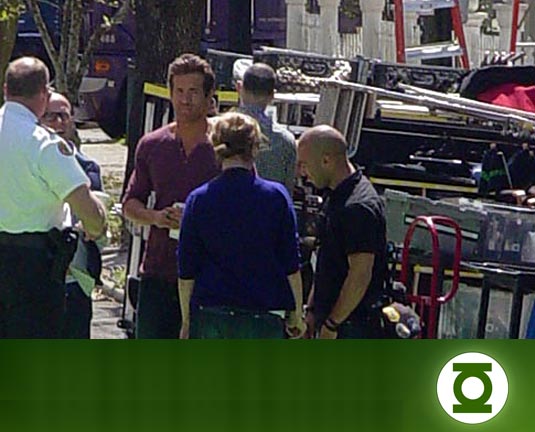 The first on-set photos of Ryan Reynolds at work on the first day of the Green Lantern shoot in New Orleans have gone online at DCUmoviepage and Comic Book Movie.
In the pictures, Reynolds was seen filming his part at a bar called Old Point Bar which was renamed Broome's Bar in honor of Green Lantern creator John Broome.
Green Latern was created in 1940 by writer Bill Finger and artist Martin Nodell. Hal Jordan (Reynolds) introduced in 1959, a second-generation test pilot, is an ordinary man who was given the power ring and battery (lantern) by a dying alien named Abin Sur. When Abin Sur's spaceship crashed on Earth, the alien used his ring to seek out an individual to take his place as Green Lantern: someone who was "utterly honest and born without fear."
The film is directed by Martin Campbell (Casino Royale), stars Ryan Reynolds, Blake Lively, Peter Sarsgaard, Tim Robbins, Mark Strong, Taika Waititi and Temuera Morrison. Morrison has been cast as Abin Sur, the alien Green Lantern Corps member responsible for Hal Jordan joining the intergalactic courage-fueled police force. Waititi will play Hal Jordan's close friend and confidante Tom "Pieface" Kalmaku.
Green Lantern is slated to hit theaters on June 17, 2011 from Warner Bros. Pictures.