Movie News
First Look at James Franco in Sam Raimi's OZ: THE GREAT AND POWERFUL

One of the more high profile releases slated for 2013 is director Sam Raimi's Oz the Great and Powerful. Production wrapped a long time ago, but it's still going to be a long time until we actually get to see the finished product. Going through production last year, the movie is still going through the editing process, as it has more than a few visual effects, and won't be arriving in theaters until March 8th, 2013.
We're poised to see some footage next month at Comic-Con, but a promo image from the film has popped up online giving us our first look at James Franco in character. The James Franco Forever Tumblr (via Bleeding Cool) has found an Italian coming attractions ad that features Franco wearing his Oz hat and standing in front of his favorite means of travel: a hot air balloon. You can check the image below.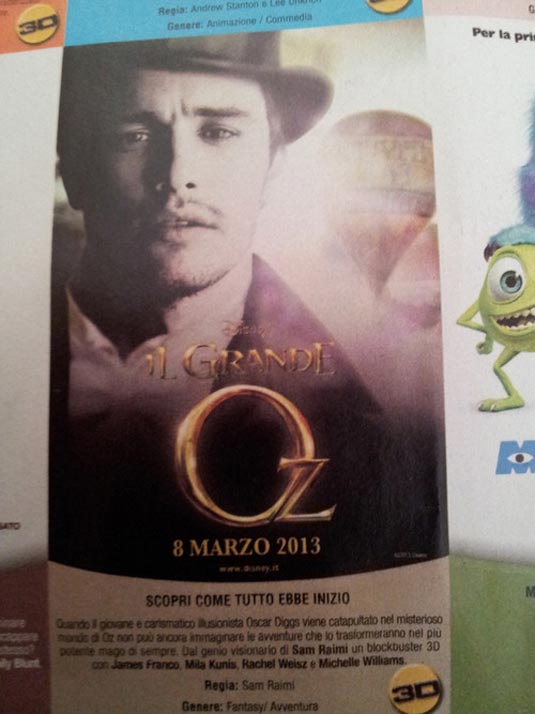 Oz: The Great and Powerful is Raimi's first directorial effort since 2009's Drag Me To Hell, and I'd love to see him making a flashy comeback with this one, because I really loved his Spider-Man films in spite of everything (what can I say, superheroes are my weakness). A prequel to the classic L. Frank Baum book, the story centers on Franco's small-time circus magician with dubious ethics who finds himself transported to Oz and drawn into a battle between the three witches Theodora (Mila Kunis), Evanora (Rachel Weisz) and Glinda (Michelle Williams).
Film also stars Zach Braff, Abigail Spencer and Joey King.