Movie Photos
First Look At Meryl Streep As The Witch In INTO THE WOODS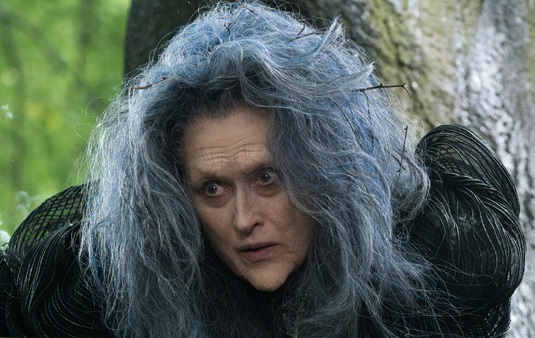 Just above and below is your first look at
Meryl Streep
in a long, matted gray wig in Walt Disney Pictures' upcoming
Into the Woods
, which is currently set to hit theaters on December 25th, 2014. The most nominated actress in history portrays the Witch who wishes to reverse a curse so that her beauty may be restored – complete with yellowing talon-like nails and a feathery frock. The big screen adaptation of
Stephen Sondheim
and
James Lapine
's musical '
Into the Woods
', directed by
Rob Marshall
(Chicago), started production last week in London. A modern twist on the beloved Brothers Grimm fairy tales also stars
Anna Kendrick
and
Chris Pine
as Cinderella and Prince Charming (below) along with
Johnny Depp
as the Wolf who sets his sights on Little Red Riding Hood,
Lilla Crawford
as a spunky girl Little Red Riding Hood,
Emily Blunt
as the Baker's Wife,
James Corden
as the Baker, a hard-working man who desperately wants to start a family,
Daniel Huttlestone
as an absentminded and adventurous boy Jack,
Tracey Ullman
as Jack's mother,
Christine Baranski
as the infamous Stepmother,
MacKenzie Mauzy
as a sheltered young woman Rapunzel,
Billy Magnussen
as the dashing and eager Prince who courts Rapunzel,
Lucy Punch
as Cinderella's spoiled stepsister,
Richard Glover
as the Princes' royal steward, and more.
Into the Woods
is currently slated to hit theaters on December 25th, 2014.
Here's the official synopsis taken from the recent production announcement:
Into the Woods is a modern twist on the beloved Brothers Grimm fairy tales, intertwining the plots of a few choice stories and exploring the consequences of the characters' wishes and quests. This humorous and heartfelt musical follows the classic tales of Cinderella, Little Red Riding Hood, Jack and the Beanstalk, and Rapunzel—all tied together by an original story involving a baker and his wife, their wish to begin a family and their interaction with the witch who has put a curse on them.